Scot Missing In Manchester Attack Alive
23 May 2017, 19:34 | Updated: 23 May 2017, 19:57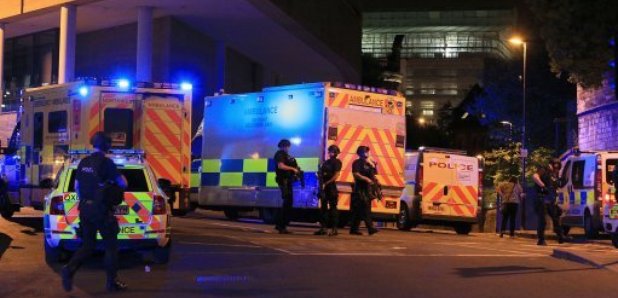 A Scottish teenager reported missing after the Manchester terror attack is being treated in hospital for serious injuries, a family friend has said.
The families of Laura MacIntyre, 15, and Eilidh MacLeod, 14, from the island of Barra, made desperate appeals when the girls failed to get in touch after the explosion at the Ariana Grande concert which left 22 dead and at least 59 injured.
Angus MacNeil, who has represented the island as SNP MP since 2005, said the older girl is being treated in hospital in Manchester.
"Laura is alive in hospital and is in a serious condition,'' he said.
"We are obviously still extremely worried about Eilidh. We have no news at the moment.''
At least four other people were treated in hospitals in Scotland, none with life-threatening injuries, after the incident.
However, First Minister Nicola Sturgeon told MSPs the authorities cannot be sure there are no other Scots affected.
Ms Sturgeon was joined by Scotland's other political leaders in condemning the "despicable act of cowardice'', praising the emergency services and in sending condolences and expressing solidarity with the people of Manchester.
The First Minister also updated the Scottish Parliament on precautionary measures being taken by Police Scotland in the wake of the atrocity.
"It is hard for any of us to imagine the anguish that their families are going through right now,'' Ms Sturgeon said.
"They are in our thoughts and the Scottish Government and Police Scotland will do all we possibly can to ensure that they have all the support they need.''
The First Minister said two of the four people who "presented at hospitals here in Scotland'' have been discharged, while a third is likely to be discharged later on Tuesday.
"I must stress that we cannot be sure at this stage that there are no other Scots affected, but we continue to liaise closely with Police Scotland to gather information and provide all appropriate support,'' she said.
The Scottish Government's resilience committee met on Tuesday morning and is due to meet again later.
Meanwhile, Police Scotland have increased their presence, including armed officers, at locations such as transport hubs and city centres as a ``precautionary measure''.
The force will review security for all events taking place in Scotland in the next 14 days, including the Scottish Cup Final at Hampden on Saturday.
Officers will also be present at motorway service stations to identify any possible witnesses returning to Scotland from Manchester.
"My thoughts, those of this Parliament, indeed all of the people of Scotland, are with those who have lost loved ones or sustained injuries in this dreadful atrocity,'' Ms Sturgeon told the Scottish Parliament.
"There can be nothing more cowardly than attacking children and young people enjoying a fun night out.
"Across Scotland today we stand in solidarity with the people of Manchester, a great city with which so many of us here in Scotland share a great affinity.''
Scottish Conservative leader Ruth Davidson said the people of Manchester had responded with ``courage and decency in the face of cowardice and evil''.
The values of ``tolerance, openness and respect for one another'' had been demonstrated by police, paramedics, doctors and nurses who had worked through the night, as well as the countless householders and taxi drivers who had offered assistance, she said.
Scottish Labour leader Kezia Dugdale said: "Being at a gig is a moment of sheer joy. Last night that joy was destroyed in a despicable act of cowardice.''
On responding to the attack, she added: "What we can do is respond well. We can teach our children that the only way to counter such barbarity is not with hate and with fear, but with compassion, tolerance, kindness and love - like the people of Manchester did last night.''
Flags have been flying at half mast at Holyrood as a mark of respect for the victims and a book of condolence has been opened.
Scottish Green co-convener Patrick Harvie offered his "deepest sympathies'' to all those affected by ``this vicious attack''.
Scottish Liberal Democrat leader Willie Rennie spoke about the people in Manchester "throwing open their homes to give shelter'' while others queued to donate blood.
"Our better human values will prevail,'' he said.
The session at Holyrood ended with MSPs and others observing a minute's silence for those affected by the attack.