Scotland Donates £1.4m To Yemen In Crisis Appeal
23 December 2016, 06:20 | Updated: 23 December 2016, 06:22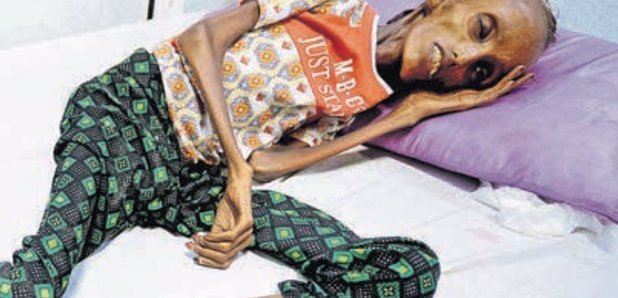 Almost £1.4 million has been raised in Scotland to help people in war-torn Yemen where children are starving to death.
A child is dying every 10 minutes because of preventable diseases and child malnutrition is at an all-time high in the country, where half a million young children are starving.
The appeal launched by the Disasters Emergency Committee (DEC) 10 days ago has raised £1,386,039 in Scotland so far, which includes a £250,000 contribution from the Scottish Government.
Across the UK the appeal has raised £13 million, which includes a £4.5 million contribution from the UK Government through Aid Match.
The DEC said that two years of conflict have pushed Yemen, already one of the world's poorest countries, to breaking point and urged people to donate to the appeal.
Chief executive Saleh Saeed said: "We would like to thank the UK public for so generously donating to our Yemen Crisis Appeal, helping us raise more than £13 million.
"Half of Yemen's population is going hungry and children are starving to death as we speak. With the funds raised, we will be able to provide emergency drip feeding for those on the brink of starvation, nutritious peanut paste for malnourished children, and cash vouchers for families unable to afford food and medicine.
"The crisis in Yemen may be far from over but despite the conflict, DEC member charities are already reaching millions of people across the country with lifesaving aid, and, with extra funds, they can reach many more.''
The DEC said a £25 donation could provide a month's supply of life-saving peanut paste to a malnourished child, while £60 can pay for clean drinking water for two families for a month.
A donation of £100 could provide supplies to a clinic treating severely malnourished children for a week.
The appeal has drawn the support of several celebrities, and actor Tom Hardy said: "Children in Yemen live in a far-off country many of us are not familiar with, but they are children nonetheless, children just like yours or mine, children who are in urgent need of the very basics to survive.
"So, at a time of year which is all about giving, a little from us here will make a massive difference there. Because it will save their lives.''
Presenter Clare Balding said: "Operating in areas of conflict is difficult but DEC agencies are working with local teams to deliver aid to communities on both sides.
"They're giving food to babies and toddlers who won't survive without it, providing medical supplies so parents don't have to choose between feeding their hungry children or buying medicine for their sick ones.
"And with a cholera outbreak spreading through parts of the country, they're providing clean, safe drinking water.''
To make a donation to the DEC Yemen Crisis Appeal, visit www.dec.org.uk, call the 24-hour hotline on 0370 60 60 900, or donate over the counter at any high street bank or post office.
A £5 donation can also be made by texting the word SUPPORT to 70000.