Holyrood Leaders Unite Against 'Heinous' Westminster Attack
23 March 2017, 15:38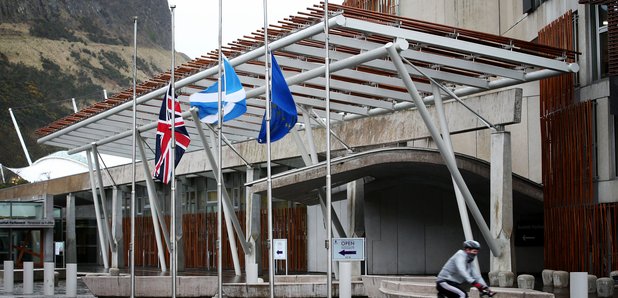 Holyrood has united to ''stand strong'' against terrorism and division in the wake of the ''heinous'' attack on Westminster.
Scotland's party leaders spoke out in defence of the values of democracy, human rights and the rule of law as they expressed solidarity with all those affected by the terror attack in London.

Flags were at half-mast at Holyrood as Nicola Sturgeon addressed MSPs at an unusually sombre First Minister's Questions after a knife-wielding attacker ploughed a car through pedestrians on Westminster Bridge before storming the parliamentary estate on Wednesday.

She spoke of her ''shock and sadness at the heinous attack'' and sent ''heartfelt condolences'' to all those affected.

The First Minister sought to reassure the public, saying while there was no intelligence of any increased threat or risk to Scotland, there had been a ''substantial uplift in armed officers on duty'' across major cities as a precaution.

She said it was important to be clear that ''acts of terrorism are not the responsibility of any one faith or section of our society''.

Ms Sturgeon told MSPs: ''The only people to blame for acts of terrorism are the individuals who plan and perpetrate them.

''Terrorists seek to undermine our values and destroy our way of life. They will not succeed.

''Whatever our disagreements in this chamber or any other, we stand united in our core values of democracy, human rights and the rule of law. Those values are strong and they will endure.''

She added: ''Just as we have to stand against terrorists, so too do we have to stand strong against anyone who would seek to exploit the acts of terrorists to sow division within our society.''

Scottish Conservative leader Ruth Davidson said: ''As representatives of democracy, we best demonstrate our defiance by showing here in Edinburgh, and at Westminster, that we will not be silenced and we will not be cowed.

''We best strike back against terrorism by staying true to our own values of democracy, freedom and the rule of law.''

She stressed the need ''not to vilify or blame whole communities, but instead show we all stand united against terror and united in defeating it''.

Scottish Labour leader Kezia Dugdale highlighted the diverse backgrounds and nationalities of the victims.

She said: ''No matter the religion, nationality or identity of the attacker, or those arrested earlier this morning, this cannot and must not turn into a war on any one community.

''Bringing people together must be part of the solution to combating terror.''

Scottish Greens co-convener Patrick Harvie warned against those who reacted to the attack with racist, anti-Muslim or anti-immigrant comments, saying ''we must continue to confront the presence of such far-right threats in our society''.

Scottish Liberal Democrat leader Willie Rennie stressed the need to balance security and freedom, adding ''we must act based on security, evidence and intelligence, and not fear''.

Earlier, Presiding Officer Ken Macintosh told MSPs he had written to Speaker of the House of Commons John Bercow, his Lords counterpart Lord Fowler and London Mayor Sadiq Khan to convey the Scottish Parliament's ''sympathy, sorrow and solidarity''.

''I hope I speak for all members in saying that this shocking event should serve to remind us of the importance of holding firm to our humanity and of defending our democracy,'' he said.

The attack took place while MSPs were debating Ms Sturgeon's plans for a second Scottish independence referendum to be held in the wake of Brexit.

The debate has now been put on hold until Tuesday March 28, when Holyrood is likely to vote to give the First Minister the authority to seek talks with Westminster over a section 30 agreement, the mechanism to transfer the powers for a legally-binding ballot to take place.