Scotland's Only Labour MP Quits Shadow Cabinet
26 June 2016, 16:05 | Updated: 26 June 2016, 16:07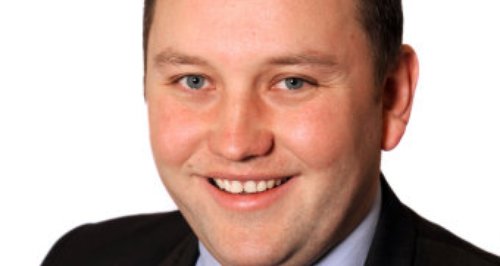 Labour's only Scottish MP has resigned his shadow cabinet post, telling leader Jeremy Corbyn the party needs "strong leadership'' to be a credible alternative to the Tories.
Ian Murray has quit as shadow Scottish secretary, leaving his party facing the prospect of appointing an MP from south of the border to the role.
Mr Corbyn now faces a revolt from the senior ranks of his party, with Mr Murray one of several MPs who left their shadow cabinet posts in protest over his leadership in the European referendum.
The mass walkout was triggered by the sacking of shadow foreign secretary Hilary Benn amid reports that he was working to co-ordinate a coup against the Labour leader.
In his resignation letter, Mr Murray said the decision to leave the European Union leaves the UK facing a "deeply challenging time ahead''.
He told Mr Corbyn that the situation "demands a strong opposition capable of holding the Government to account'' but said: "I do not believe that can be achieved under your leadership.''
Mr Murray was left as Labour's sole MP north of the border after the 2015 general election resulted in an SNP landslide, with Nicola Sturgeon's party winning all but three of the constituencies.
The Edinburgh South MP told the Press Association that resigning as shadow Scottish secretary was "one of the most difficult political decisions I've ever made'', but he said that the party needed "strong leadership''.
He said: "I raised in the shadow cabinet on Friday that I was concerned about the direction of the party.
"I was concerned that we weren't addressing people's legitimate concerns that has been manifested in the ballot box on Thursday evening for the EU referendum, and I felt that we were talking to too narrow a group of people in terms of the country so I think, given I'd said that on Friday and given what's happened in the party since then, that my position in the shadow cabinet became untenable and it was right for me no longer to be in that shadow cabinet.''
He insisted: "This isn't a personal thing with Jeremy Corbyn. He's a decent human being, he's principled, he's a lovely man. His response to my resignation letter was as Jeremy Corbyn would. It was kind, it was generous.
"I get on very well with Jeremy as a person but we do need strong leadership of the Labour Party that can build that coalition of support so we can be a credible party in government again.''
With Scotland also facing a possible second independence referendum, after it voted to remain in the EU but the UK as a whole opted for leave, he made clear that Labour did not back another vote on the issue.
Mr Murray said Labour has "been clear that we're a party that believes in Scotland being part of the UK and being part of the European Union''.
He added: "We will leave no stone unturned in trying to make sure we support the First Minister but we have said in our manifesto, and our manifesto still stands, that we don't support a second independence referendum. We all need to come together, find the solutions, heal the divisions and do what's in the best interests of the Scottish people.''