Scotrail Passenger Satisfaction Surges To Equal Record High
25 July 2017, 11:13 | Updated: 25 July 2017, 12:48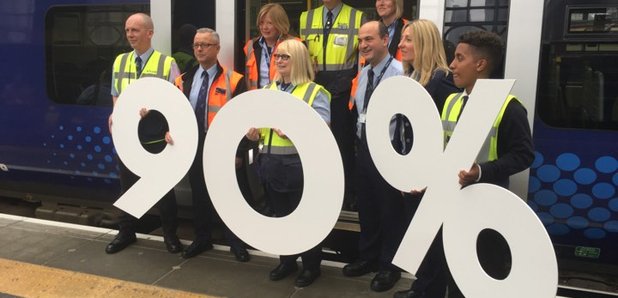 Passenger satisfaction with train operator ScotRail has equalled a record high in an independent survey.
Watchdog Transport Focus found 90% of passengers said they were satisfied with their journeys in spring this year, an increase from 83% in the last study in autumn last year.
Transport minister Humza Yousaf said the increased satisfaction rate showed a rail improvement plan implemented last year was working.
The national rail passenger survey (NRPS) found 92% of passengers are satisfied with the speed of ScotRail journeys, 85% with punctuality and reliability, 82% with ScotRail train facilities and 54% are satisfied with how the operator deals with delays.
The last time ScotRail's overall rating reached 90% was in autumn 2015.
The UK average passenger satisfaction in the latest NRPS is 83%.
Mr Yousaf said: "This latest increase in overall passenger satisfaction, when compared with spring 2016, is welcome to both me and to passengers.
"These results are evidence the actions implemented through ScotRail's performance improvement plan, which was in place during the survey period, have been reflected in customer opinion.
"This is a good example of Transport Scotland working with the ScotRail Alliance to drive up performance for passengers and we expect this to continue moving forward.
"While Scotland's railways compare well with the rest of other UK operators, it is important ScotRail not only meets customer expectations but also strives to deliver improved services, trains and facilities across Scotland.''
An improvement plan was created last year amid a turbulent period for the ScotRail Alliance when it faced calls to be stripped of its £7 billion 10-year franchise to run Scotland's railways after performance slipped below contracted standards.
The NRPS survey ranked ScotRail the eighth-best rail operator in the UK out of a total of 26.
Alex Hynes, managing director of the ScotRail Alliance, said: "This equals our best-ever result, and shows that the vast majority of our passengers are satisfied with the work ScotRail is doing to build the best railway Scotland has ever had.
"For nine out of ten ScotRail customers to be satisfied with our performance at a time when we are delivering one of the biggest upgrades to our network since Victorian times is down to the hard work of our dedicated staff at the ScotRail Alliance, a partnership between Abellio ScotRail and Network Rail.
"These results are really encouraging but we aren't complacent. The major investment we are making now will mean faster journeys, more seats and better services for our customers.''