Scots Charity Sent Abuse For London Disaster Effort
16 June 2017, 12:26 | Updated: 16 June 2017, 15:27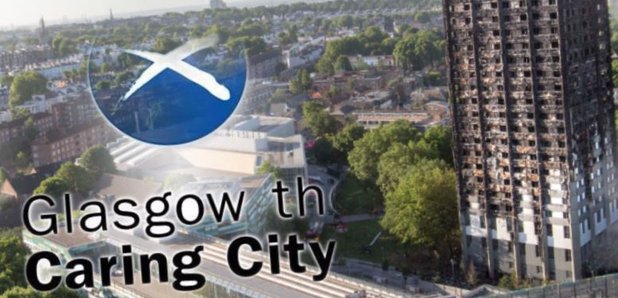 Online trolls have been sending abuse to Scottish volunteers helping with the fire disaster in London.
The 'Glasgow Caring City' group have been taunted as they prepare to send a truck to the Grenfell scene.
20,000 bottles of water and almost 3000 hygiene kits will be on board.
The organisation said: "It is regrettable that we received abusive communications claiming "we didn't know what we were talking about" but as most of you know, we have significant experience in this field and extensive emergency planning skills within the team too."
30 people have so far been confirmed dead as the fire service continues a room by room search.
The fire service says "a good half" of the building has yet to be searched in detail and many relatives are still desperately looking for loved ones.
The upper floors in particular may need shoring up before firefighters can safely get into the flats.
The Queen, accompanied by Prince William, visited Westway Sports Centre on Friday morning, where some of those left homeless have taken refuge.
Police - who have launched an investigation into potential criminal wrongdoing - have warned the search could take months.
On Thursday, the First Minister announced a ministerial group will review regulations in Scotland following the devastating fire.
Scottish Government officials are also investigating if any high-rise buildings in Scotland are covered in the type of cladding used in the Grenfell Tower.