Scots cyclist breaks world record
18 September 2017, 19:04 | Updated: 18 September 2017, 19:05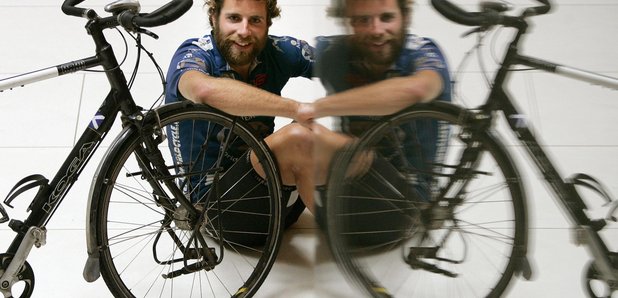 Scotttish ultra-endurance cyclist Mark Beaumont says he feels elation and "utter relief" after obliterating the record for travelling around the world on a bike.
Scotttish ultra-endurance cyclist Mark Beaumont says he feels elation and "utter relief" after obliterating the record for travelling around the world on a bike.
The adventurer set off from France in July on a mission to circumnavigate the globe in 80 days and arrived back in Paris on day 79 of the journey, 24 hours ahead of schedule.
The Scot is awaiting official verification he has set a new Guinness World Records title but it is expected to be confirmed that he has succeeded in knocking 44 days - a third - off the previous record of 123 days.
Edinburgh-based Beaumont, 34, completed the epic 18,000-mile Artemis World Cycle challenge despite three serious falls off his bike and facing conditions such as fierce head winds, sub-zero temperatures and forest fire smog.
He put his success down to "grit, the ability to suffer" and declared: "This has been, without doubt, the most punishing challenge I have ever put my body and mind through."
On completing the expedition, he told Press Association Scotland: "I guess the biggest emotion is relief, utter relief. This has been years in the planning.
"Since I was a 12-year-old kid who pedalled across Scotland, the ambitions have got bigger over the last two decades.
"For me, this was the ultimate. So (I feel) relief, elation, it's just wonderful to see my beautiful wife and two daughters who have supported me brilliantly through this. I definitely owe them a bit of time now."
The record-breaking moment was aired on Facebook Live, with his official page saying "Made it to the finish line in under #80days".
Inspired by Jules Verne's classic adventure novel Around The World In Eighty Days, Beaumont set off from under the Arc de Triomphe on July 2.
He has travelled through 16 countries during his four-stage challenge, with the first stage seeing him travel through Europe to Russia and Mongolia, culminating in Beijing.
His attempt to reclaim the world record later took him across Australia, New Zealand and North America.
He then arrived back in Europe for a final push from Lisbon to Paris.
The long-distance athlete had to complete 240 miles a day - spending 16 hours in the saddle after less than five hours sleep per night - to stay on schedule.
Over the course of the 79 days, Beaumont faced numerous physical and mental challenges, including a fall in Russia on day nine, in which he broke a tooth and suffered a hairline fracture to his left elbow. He came off the bike again in New Zealand and just days ago in the Pyrenees.
"That really gave the team a fright because I was about four days from the finish and suddenly I was off," he said.
"I think it made everyone realise it's not over till it's over."
Beaumont cites Russia as the toughest country to traverse while the weather conditions in the southern hemisphere, Canada and the US proved challenging.
He said: "I got to Russia and it took 17 days across. It was really pretty industrial, hard riding.
"I found that mentally and physically pretty gruelling.
"New Zealand, whilst being absolutely beautiful, was in the depth of winter. Getting on the bike at 4am with ice on the jacket and quite nasty storms made that probably the most inclement part.
"There was massive forest fires in North Dakota which we were skirting.
"I rode a couple of days with that heavy smog. Then across the prairie spots there was incredible head wind with nowhere to hide out there.
"It's not so different to a sailing boat going around the world - the wind can make or break a record like this."
During the trip, Beaumont was also awarded the Guinness World Records title for the most miles cycled in a month, from Paris to Perth in Australia, verified at 7,031 miles (11,315km).
He explained: "Ultimately, the magic ingredient that you need to be able to do something like this is grit, just the ability to suffer.
"Physically, of course, I'm incredibly sore but what you learn very quickly is there's a big difference between hurting and being injured. I'm not injured, although it will take time for the body to recover.
"For one thing, I think I'd struggle to walk up and down a flight of steps at the moment because I've not really walked since July 2."
In 2008 Beaumont completed a cycle around the globe in 194 days, setting a world record.
Since then, the record was whittled down to 123 days by New Zealand's
Andrew Nicholson.
Unlike his 2008 solo ride, Beaumont has been accompanied by a mechanic, nutritionist, physiotherapist and manager on the Artemis World Cycle.
The cyclist says none of it would have been possible without the support of his family and the team on the road, including performance manager Laura Penhaul, the one person who has accompanied him on the whole journey.
"As somebody who spends most of their career doing solo expeditions, I've actually loved the camaraderie on the road, that level of team work. It's been lovely to see," he said.
Beaumont still aims to raise £80,000 for Orkidstudio, a humanitarian architectural charity with which he has worked for the last decade.
Donations can be made by texting "ORKD80 £10" to 70070 or online at justgiving.com/fundraising/markbeaumont-80days
VisitScotland director of marketing Charlie Smith said: "Mark has cycled his way in the history books, smashing two Guinness World records in the process.
"He has shown extraordinary spirit and has not only inspired me, but more importantly millions of children around the world who have followed his incredible journey. He is a Scottish hero.
"We, like the entire country, are incredibly proud of what Mark has achieved and we wish to thank him for being a fantastic ambassador for Scotland, promoting our amazing country to all he met."