Scottish Brexit bill to be treated as emergency legislation
1 March 2018, 15:10 | Updated: 1 March 2018, 15:11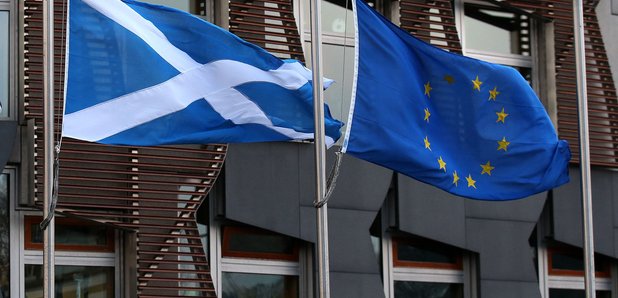 MSPs have voted in favour of the Scottish Government's Brexit Continuity Bill being treated as emergency legislation.
The legislation will be fast-tracked through the Scottish Parliament on a shortened timetable, with Scottish Brexit Minister Michael Russell advocating a final vote within three weeks.

The Scottish Government has proposed its own Bill as an alternative to the UK Government's European Union (Withdrawal) Bill amid a row on devolved powers returning from Brussels.

In a Holyrood debate, Mr Russell said the proposal is to hold the stage one debate next week, stage two in the chamber as opposed to committee the following week and stage three the week after that.

He said the timetable is being driven by Westminster as the third reading for the Withdrawal Bill in the Lords is expected in early May and it is "essential" that the Continuity Bill becomes law before the Withdrawal Bill does.

He said: "In the absence of an agreement about a common UK approach and in the defence of devolution, this parliament must prepare itself to assert, if it has to, the right to legislate itself about the devolved consequences of EU withdrawal."

He added: "Without it, not only are we defenceless but our negotiating position as a government is severely weakened."

He said Scottish ministers would continue to negotiate with their UK counterparts for Withdrawal Bill agreement to enable the scrapping of the Continuity Bill.

He added: "I am confident that this parliament can give the Continuity Bill the scrutiny it deserves in the next few weeks."

Conservative Adam Tomkins argued there "is no emergency" and the Continuity Bill is "unwelcome, unnecessary and dangerous".

He said: "It is the SNP who are treating this parliament with disdain in seeking to rush through controversial legislation, significant elements of which may well be beyond our competence altogether."

He highlighted the Presiding Officer has ruled the Bill is outwith the Scottish Parliament's legislative competence, although the Lord Advocate has indicated otherwise, and raised concerns "ploughing on regardless" could bring the parliament into disrepute and invite legal challenges.

Labour's Neil Findlay said his party has "serious reservations" about the loss of stage two committee scrutiny.

Green co-convener Patrick Harvie said his party backed the Continuity Bill, which he said is "absolutely necessary as a response to the Brexit crisis".

He added: "There can be no doubt that this is an emergency situation and must be dealt with using emergency procedure."

He said his party wanted the maximum amount of scrutiny to take place in the time available and committees should take evidence from expert witnesses and the government on the legislation.

Liberal Democrat Tavish Scott called for stage two to be dealt with in committee to ensure adequate scrutiny.

MSPs voted by 86 to 27 in favour of treating the Bill as emergency legislation.