Scottish Labour Row Emerges After Interim Leader Appears To Back Candidate
27 September 2017, 15:32 | Updated: 27 September 2017, 15:34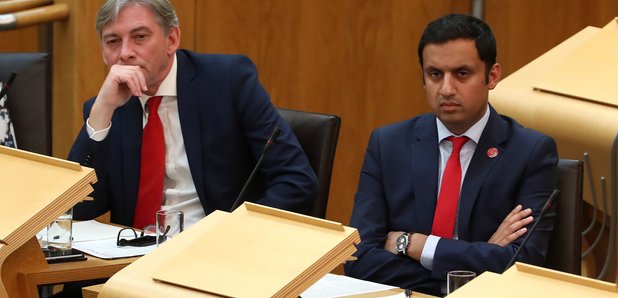 A row has engulfed Scottish Labour after a recording emerged of interim leader Alex Rowley backing Richard Leonard for the party's top job.
In the recording obtained by a newspaper Mr Rowley, who vowed to stay neutral in the race to replace Kezia Dugdale, is heard to favour left-wing candidate Mr Leonard for the leadership over fellow MSP Anas Sarwar.

During the private conversation with a student, recorded at Labour's conference in Brighton, the Mid Scotland and Fife MSP is heard to say: "Although I'm neutral in the leadership I also believe that Richard Leonard has everything that we need to win in 2021. I really do.

"So when, to our surprise, the job became vacant, it just seemed to me that from a left perspective the person that was most suited to do that job would be Richard Leonard."

On the leadership contest he added: "We didn't expect this to happen, and we certainly weren't putting any pressure on it."

He added: "We, privately, we didn't believe Kezia would be there in 2021. But not right now. It came as a surprise to us.

"So our view was that Richard was the best person and therefore we should go with that plan. But he has now to get elected of course."

Jackie Baillie MSP, who is backing Mr Sarwar, said: "Alex Rowley's hypocrisy is incredibly disappointing. But what is most concerning is the revelations about a plot against Kezia Dugdale.

"Kez was elected with a huge majority and it will infuriate members to learn that some MSPs were working behind the scenes to undermine her and replace her with Richard Leonard.

"Richard must urgently answer questions about his role in this plot. This behaviour by the party establishment is a complete betrayal of the membership and every value we hold dear."

Neil Findlay MSP, who is supporting Mr Leonard, described Ms Baillie's statement as "barrel scraping desperation" while a spokesman for Mr Leonard's campaign said: "If there were any attempts to undermine Kezia - they did not involve Richard and he knew nothing of them. Any statements that he did are completely false."

A spokesman for Scottish Labour said: "Alex was having what he believed to be a private conversation with a student and a political activist. He has not and will not publicly back a candidate.

"He has no intention of relinquishing his role as interim leader of the Labour Party in Scotland until after the current leadership contest is over."

Last week Mr Rowley was forced to deny he had deliberately set Mr Sarwar up during First Minister's Questions at Holyrood, after his reference to "millionaires" allowed Nicola Sturgeon to attack the leadership candidate for his personal wealth.