Scottish Ministers Not Being Shown Draft Brexit Deal Branded 'Unacceptable'
14 November 2018, 07:36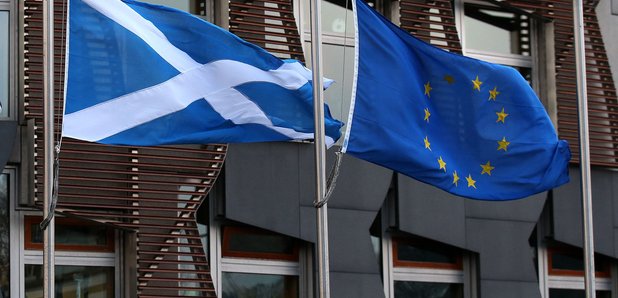 Scotland's Brexit Secretary Mike Russell has hit out at the UK Government after a provisional deal on the UK's exit from the European Union was agreed with Brusssels.
Mr Russell insisted it was "completely unacceptable" that Holyrood ministers and the other devolved administrations had not been given details of the draft document.
He spoke out after a Number 10 spokesman confirmed this would be discussed at a crunch meeting of Theresa May's cabinet on Wednesday.
"Cabinet ministers have been invited to read documentation ahead of that meeting," the spokesman added.
But Mr Russell hit out: "It is completely unacceptable that devolved administrations have still not seen the detail of any draft deal."
He had spent the day in London for a Joint Ministerial Committee meeting chaired by Cabinet Office Minister David Lidington, and involving the other devolved adminsitrations of the UK.
But Mr Russell said he knew no more coming out of the meeting than he had when he arrived.
"We must be able to scrutinise the deal and understand its implications," the Scottish Constitution Relations Secretary said.
He was also clear that "reaching agreement at technical level does not negate the threat posed by Brexit to jobs and living standards" adding the "best way to avoid that is to stay in the EU, in line with how people in Scotland voted".
And he reiterated the Scottish Government's stance that if it was not possible, the only option Holyood ministers would accept was one keeping the UK in both the European single market and customs union.
Ms Sturgeon said if the PM is unable to get her Brexit deal through the House of Commons, campaigners aiming to keep the UK in the single market should then "take the opportunity to get better options back on the table".
The First Minister tweeted: "If the PM's 'deal' satisfies no-one and can't command a majority, we mustn't fall for her spin that the UK crashing out of EU without a deal is then inevitable - instead we should take the opportunity to get better options back on the table."
She also warned if the deal was "vague and dodges tough issues" on the UK's future relationship with the EU then "a blindfold Brexit would beckon" - with Ms Sturgeon insisting it would "be deeply irresponsible for parliament to sanction that".
A UK Government spokesman said: "The UK Government and devolved administrations have made significant and ongoing progress in jointly developing common frameworks, which will help protect the vital internal market of the United Kingdom."