Service To Mark Centenary Of Battle Of Arras
9 April 2017, 12:29 | Updated: 9 April 2017, 12:31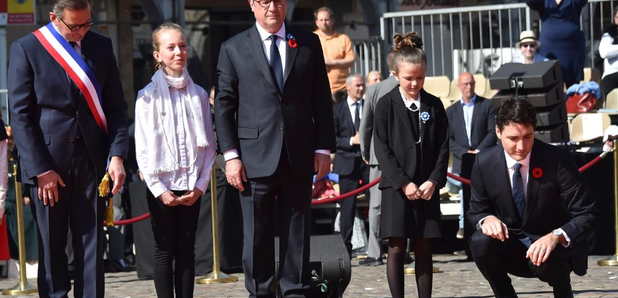 Descendants of soldiers killed in the Battle of Arras have joined hundreds of people at a service in France to mark the centenary of the fighting.
Arras had the highest concentration of Scottish troops fighting in a single battle during the First World War, with an estimated 18,000 Scots killed.
Relatives of those who died were joined by young people and dignitaries for the WW100 Scotland service led by the Right Rev Dr Russell Barr, Moderator of the Church of Scotland, at Faubourg d'Amiens cemetery in Arras.
Among those gathered was cadet Melissa Rodger, 14, from Motherwell, whose great-great uncle Private Samuel Rodger of the Cameron Highlanders, died in the fighting on May 3 1917.
School pupils from Scotland and France also laid a wreath together on behalf of the UK, French, Canadian, New Zealand, Australian and South African nations who fought in the battle, which took place from April 9 to May 16 1917.
First Minister Nicola Sturgeon, who is in France for the commemorations, said: ``Forty-four Scottish battalions and seven Scottish-named Canadian battalions took part in the Battle of Arras - the highest concentration of Scottish troops fighting in a single battle during World War I.
''Pupils representing every local authority in Scotland are in Arras this weekend to learn more about its impact. These young people are not much younger than many of those who fought in the battle - many of whom never returned to Scotland.
''Education is an important part of our commemorative programme - ensuring pupils understand the impact and significance of the battle, and share what they have learned with their peers and wider community.''
The WW100 Scotland events are part of international commemorations being held in Scotland and France.
They have been organised by the Scottish Commemorations Panel with Legion Scotland, the Commonwealth War Graves Commission and the armed forces in Scotland.