Severe weather hampers Ben Nevis search for hillwalker
24 January 2018, 11:31 | Updated: 24 January 2018, 11:32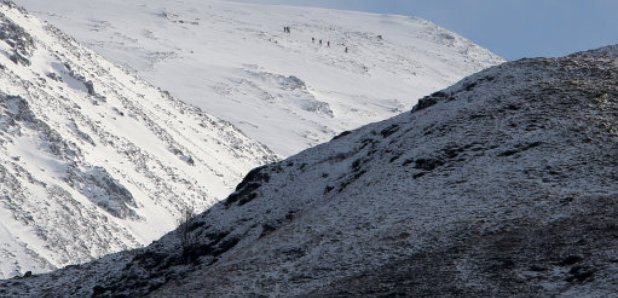 Rescuers looking for a hillwalker missing since Sunday on the UK's highest mountain have described how severe weather has been hampering search efforts.
Two men were found by Lochaber Mountain Rescue Team close to the summit of Ben Nevis at about 6pm on Sunday, however another man who was with them is still missing.
Lochaber Mountain Rescue Team said conditions have made it difficult to look for him but they plan to resume the search as soon as there is a window in the weather.
On Monday a team went into Observatory Gully to assess conditions but the avalanche risk was too high to deploy rescuers to search the area.
Instead they searched the area using a drone which was lost as conditions proved to be "well outside its operational capability".
On Tuesday a search and rescue helicopter tried to reach Observatory Gully but had to turn back due to the difficult weather conditions.
In a post on their Facebook page on Wednesday Lochaber Mountain Rescue Team wrote: "Today the forecast of 90 mph winds at sea level and storm force winds on the mountain with continued high avalanche risk mean that the team have reluctantly decided to delay restarting the search.
"As soon as we get a window in the weather then we will resume.
"Our thoughts are with the family and friends of the missing person and we are sorry we cannot do any more than we have already done."