Skippy The Puppy Rescued From Rubbish Dump On Glasgow Green
17 July 2017, 12:58 | Updated: 17 July 2017, 13:01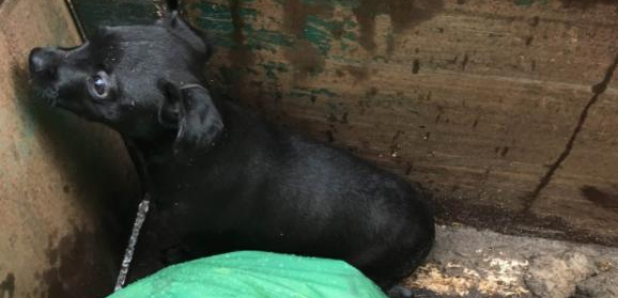 An abandoned puppy has been rescued after an eagle-eyed runner spotted her in a rubbish skip.
The female pup has now been named Skippy by the Scottish SPCA officers who rescued her.
They were alerted after the runner noticed the dog, a black terrier cross who is five to six months old, after she was abandoned in a skip on Glasgow Green
Scottish SPCA inspector Elaine Lindsay said: ''We are very lucky the puppy was seen, as she was hiding under a cardboard box and was difficult to spot under all the rubbish in the skip.
''She's a black terrier cross-type dog, around five to six months old and in good condition despite the distress of being left in the skip. Staff at the centre have named her Skippy.
''Skippy has been well fed, but also has her tail docked so we're keen to speak to anyone who may be able to help us establish why she was left here in the first place.''
Abandoning an animal is an offence under the Animal Health and Welfare (Scotland) Act 2006 and those found guilty of doing so can expect to be banned from keeping animals for a fixed period or life.
Anyone with information is urged to contact the Scottish SPCA animal helpline on 03000 999 999.