SNP MPs Bill To Combat Violence Against Women Clears Commons
24 February 2017, 15:34 | Updated: 24 February 2017, 15:37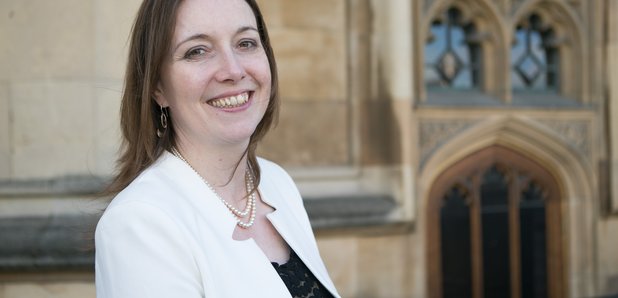 MPs cheered and applauded after proposals to help end violence against women cleared the Commons despite a 91-minute ''filibuster''.
Conservative Philip Davies was labelled a ''pantomime villain'' after speaking at length while amendments were considered to SNP-sponsored legislation aimed at forcing the Government to ratify the Istanbul Convention.

He claimed such a move in other countries has not made a ''blind bit of difference''.

But the SNP successfully shortened the debate by passing a closure motion, before MPs gave the Preventing and Combating Violence Against Women and Domestic Violence (Ratification of Convention) Bill a third reading by 138 votes to one - majority 137.

The Bill will undergo further scrutiny in the Lords.

The convention seeks to place legal obligations on the state to tackle sexual violence and domestic abuse.

SNP MPs led the cheers after the final vote which ensured the Bill's progression to the next stage.

Mr Davies was the only MP to vote against the Bill at third reading, with Tory colleagues David Nuttall and Christopher Chope acting as tellers for the noes.

Eilidh Whiteford, the SNP MP who sponsored the Bill, said ahead of the vote: ''We have travelled some distance in this struggle but we still have such a long way to go and we need to recognise that ratification of the Istanbul Convention is a milestone in the journey to equality and justice for women, and not an end point.''

Ms Whiteford dedicated the Bill to her constituent Sarah Scott, who waived her right to anonymity after she was brutally raped in Aberdeen in December 2010.

She said: ''So Sarah, this Bill is for you and for every person who knows at first hand the brutal, life-shattering reality of sexual violence and has had the courage to claim courage and fight for it.

''Thank you for helping us all be a bit braver and a bit stronger in the fight for equality and human rights, and more determined than ever to end this abuse once and for all.''

Ms Whiteford earlier accused Mr Davies (Shipley) of trying to delay the proposals while women are ''maimed and killed by abusive partners''.

She said: ''I am aware that (Mr Davies) enjoys playing the pantomime villain in this very public theatre and that he genuinely opposes the principles of the Bill.

''But I have to say the way he has gone about wrecking amendments and talking to them at mind-numbing length this morning does nothing to enhance his reputation or the reputation of our democratic process.''

She went on: ''To see this legislation filibustered is soul-destroying for those who really need the protection of such a Bill.''

Debate of Private Members' Bills brought forward by backbench MPs is limited on Fridays and Mr Davies has developed a reputation for delivering lengthy speeches to help block proposals that he disapproves of.

He has also previously campaigned for Parliament to recognise International Men's Day and criticised ''militant feminists''.

Mr Davies, Mr Nuttall (Bury North) and former minister Mr Chope (Christchurch), tabled more than 50 amendments to the legislation, including demands for it be extended to cover men as well as women.

None of these were moved to a vote.

Speaking during report stage, Mr Davies said: ''I don't agree with the Istanbul Convention because it is discriminatory, but at least I am up front and honest about that, in saying I oppose the Bill and want to stop the Bill from going forward.''

He added: ''It's harsher sentencing of perpetrators that will make a big difference.

''The idea that having this group of experts pontificating about how well or badly something has been implemented will make any material difference to the levels of violence in the UK is for the birds.''

The Government has faced criticism for signing the convention but failing to ratify it, despite the fact it was adopted by the Council of Europe in 2011.

Theresa May's administration supports Ms Whiteford's Bill, with Northern Ireland Secretary James Brokenshire and Work and Pensions minister Penny Mordaunt among the Tory frontbenchers voting in favour of it.