Statue of rent strike leader Mary Barbour unveiled in Glasgow
8 March 2018, 16:54 | Updated: 8 March 2018, 16:56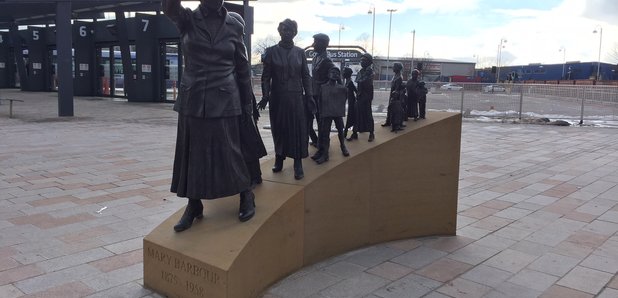 A statue of a woman who successfully led rent strikes during the First World War has been unveiled in Glasgow.
Mary Barbour led the strikes in the city in 1915 after property owners raised rent for workers, thousands of whom had flocked to Glasgow to work in munitions factories and shipyards.
The protests forced a change in the law with the introduction of the Rent Restrictions Act.
After the war, she maintained her vision and determination to deliver better conditions for women and children across the city, becoming one of the first female councillors, the first female baillie - a civic officer - and a female magistrate.
A statue commemorating Mrs Barbour was unveiled in Govan on Thursday, International Women's Day.
The sculpture, by Andrew Brown, shows her leading rent strikers who were dubbed "Mrs Barbour's Army".
A large crowd of people turned out for the unveiling of the statue, which was organised by the Remember Mary Barbour Association.