Storm Aileen Set To Batter Britain With 75mph Winds
12 September 2017, 14:43 | Updated: 12 September 2017, 14:48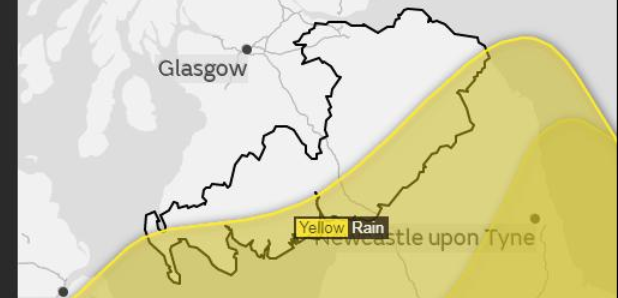 The first named storm of the year, Storm Aileen, is set to bring winds of up 75 miles per hour to parts of the UK this week, the Met Office said.
Storm Aileen is the first storm to be named since this season's names were released last week, as part of the scheme by the Met Office and Met Eireann to raise awareness of extreme weather in the UK and Ireland.

Low pressure will bring "very strong winds" down south on Tuesday night and Wednesday morning.

A yellow weather warning for rain is also in place for parts of southern Scotland, Northern Ireland and northern England, which warns of 30-40 mm (1.2 to 1.6 inches) of rain falling within six to nine hours which could cause some disruption.

Chief forecaster Frank Saunders said: "Storm Aileen is expected to bring strong winds of up to 75mph to a central segment of the UK and an amber weather warning has been issued.

"As well as the strong winds, there will be some heavy rain pushing eastwards overnight which could see accumulations of 30-40mm.

"The low-pressure system that is bringing these strong winds will move fairly swiftly from west to east over the UK and although there will still be some disruption through Wednesday morning, the winds will ease by the afternoon leaving a day of blustery showers."

The Met Office said there was no connection between the high winds the UK is expected to see and the severe weather battering the Caribbean and the US, with the UK's weather system originating north in the Atlantic, independent of the current hurricanes across the ocean.

As Storm Aileen clears out eastwards into the North Sea, the UK will be left with cool, showery conditions by the end of the week and into the weekend, the forecasters said.

Rod Dennis, spokesman for motoring organisation the RAC, said: "The arrival of the first named storm appears to mark a very early arrival of autumn.

"Aileen's impact is likely to be short but sharp in the north of England, and felt most by those driving in the early hours of Wednesday morning and into the morning rush hour.

"High-sided vehicles will need to take particular care, but anyone driving can expect to experience some very strong gusts and heavy rain which will make driving conditions difficult.

"Plan ahead and if you can delay your journey until conditions are expected to improve later on Wednesday, then do so."