Sturgeon defends baby boxes
3 May 2018, 15:24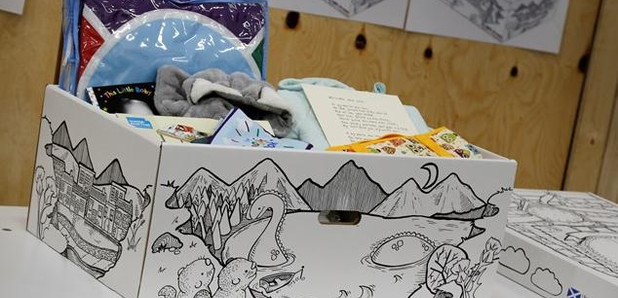 Nicola Sturgeon has accused the Scottish Conservatives of "needlessly trying to frighten parents" after the party called for all safety documentation on the baby box to be published.
Miles Briggs, Scottish Tory health spokesman, said there should be "complete transparency" from the SNP over the advice received about the boxes, which have been delivered to more than 22,000 families since they launched last August.
The kits, which contain essential items for newborns, are also promoted as a safe place for babies to sleep.
However, cot death expert Dr Peter Blair raised concerns about the safety of the boxes in a memo to the Scottish Government, The Guardian reported.
At First Minister's Questions, Nicola Sturgeon said all safety certificates had been published.
Asked by Mr Briggs to set out all safety advice the government had received from experts, Ms Sturgeon said: "I think the Tories should be deeply ashamed of themselves for needlessly trying to frighten parents.
"Miles Briggs called for all of the safety accreditation to be published, that was done months ago and I don't believe Miles Briggs doesn't know that. The question, therefore, is why is he trying to wilfully mislead people about that?
"Let me address this because it is really important to parents.
"The baby box conforms to all relevant safety standards, there isn't yet a specific British standard for baby boxes but the baby box conforms to the standards in place for a crib or a cradle for domestic use, and that includes passing all of the necessary stability, static load and strength safety tests."
She added: "I just wonder, what is it about the baby box that so offends the Conservatives? Is it just because it is SNP policy or is it because it's giving state support to families when the Tory preference is always to take that away from families?
"Or is it because we haven't insisted on a rape clause for eligibility for the baby box? The baby box is a good thing and the Tories should stop unfairly criticising it."
Dr Blair, chairman of the International Society for the Study and Prevention of Perinatal and Infant Death, told The Guardian: "I'm not saying don't use the baby box, I'm just saying that you've got to be careful with the advice of how much you can promote it as a safe sleeping space."
The British Standards Institution (BSI) said it is considering developing a standard specifically for baby boxes.
Inspired by Finnish baby boxes, the Scottish versions are filled with essentials such as nappies, clothes and books as well as a mattress and blanket.
Mr Briggs said the information that has emerged is "deeply concerning" and called for all documentation about the safety of the boxes to be published.
He said: "The SNP has used every opportunity to talk up the baby box policy and attack anyone who asked questions about their use.
"We now must see complete transparency from Nicola Sturgeon and her ministers.
"All official documentation relating to the safety and the certification of baby boxes must be published immediately.
"Only that way can parents have faith in this SNP government's plans. This is not a public relations exercise - it is about child safety."
A BSI spokesman said: "At present there is no standard that covers baby boxes. There may be some clauses of the BS EN 1130 Furniture. Cribs and Cradles for domestic use series that could be applicable to baby boxes, but BS EN 1130 is a furniture standard and not intended for cardboard baby boxes.
"BSI Standards is currently considering developing a standard specifically for baby boxes."