Sturgeon 'Fairly Certain' Of IndyRef 2
5 April 2017, 07:22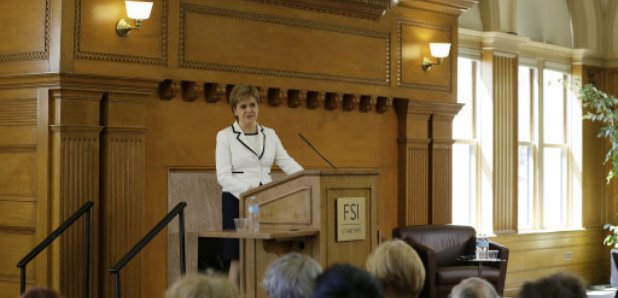 First Minister Nicola Sturgeon said she is "fairly certain'' there will be a second referendum on Scottish independence - but she does not think Britons will get another chance to vote on remaining in the European Union.
She made the comments in a speech in America where she argued independence is the best way for Scotland to make a positive contribution to the world.
She also told the audience that while she "fervently'' wants Scotland to become independent, she "wouldn't want it to be won on the basis of a campaign that was as dishonest as the EU referendum campaign''.
Her address took place a week after MSPs at Holyrood backed her call for a second independence referendum following the UK vote for Brexit - a decision which was not supported by voters in Scotland.
Prime Minister Theresa May has insisted "now is not the time'' for another ballot after Scotland decided by 55% to 45% to stay part of the Union in September 2014.
The SNP leader accepted some people "understandably are reluctant'' to hold another vote on the issue so soon after that, but also claimed Mrs May's refusal to grant permission for a second referendum was "not a sustainable position''.
In a speech at Stanford University, the First Minister said she was "seeking that legal consent from the Westminster government to legislate for an independence referendum, which at the moment they're saying they're not willing to give''.
But she stated: "That is not a sustainable position frankly for the UK Government to take, it is a bit of a holding position just now. There will be another referendum on Scottish independence, of that I am fairly certain.''
While the legislation that created the Scottish Parliament reserved powers over constitutional issues to the UK, Ms Sturgeon argued that "is quite a vague term'' and said that the issue had never been tested in court.
She also contrasted the "well informed'' debate over Scotland's future that took place in the run up to September 2014 with the Brexit campaign in the UK in 2016.
In the independence campaign, she said: "There was a wealth of information there for people to access and the population generally became incredibly well educated and well informed about the issues at stake.
"It was a debate that had a high level of understanding about the issues at stake. The EU referendum by contrast had none of that. The information that people had was reduced to a lie on the side of double decker bus.''
Ms Sturgeon continued: "As I look ahead to the possibility of another referendum on Scottish independence, people often say to me 'you'll try to run it like the EU referendum and get people to vote purely on emotion and keep it a fact free zone'.
"I fervently hope for the independence of my country. I wouldn't want it to be won on the basis of a campaign that was as dishonest as the EU referendum campaign.
"I've been absolutely crystal clear if people in Scotland are to have a choice again, it must be a genuinely informed choice and that means in this context that the terms of Brexit must be clear for people to make a judgment about , but also the opportunities and challenges - because there are both - of independence must equally be clear.''
For that to happen Ms Sturgeon says a second independence referendum should be held between autumn 2018 and spring 2019
"We had a referendum on independence less than three years ago,'' Ms Sturgeon said.
"That's why some people in Scotland entirely understandably are reluctant to have another one in the next two years.
"However if we don't give people in Scotland a choice we will have to accept a course of action determined by a UK Government most people in Scotland didn't vote for, a course which will be deeply damaging to our economy and to our society, perhaps for decades, possibly for generations to come.''
And while Liberal Democrats are calling for a second vote on the UK's EU membership once the terms of the Brexit deal are known, Ms Sturgeon said she did "not see where the coalition of support could come from for that''.
She stated: "This is a prediction that may turn out to be wrong - I don't think there will be a second referendum on EU membership in the UK.''
The SNP's opponents criticised the First Minister for speaking out on independence during her visit to the US.
Scottish Conservative chief whip John Lamont said: "The First Minister has dumped the day job - and not content with pushing her divisive campaign for a second referendum on independence at home, it now appears it has gone global too.''
Scottish Labour business manager James Kelly added: "Even on a foreign trip Nicola Sturgeon can't stop campaigning for another divisive independence referendum. When Nicola Sturgeon is abroad she should be representing the interests of all the people of Scotland, not trying to build up support for a second referendum that the majority here don't want.''