Sturgeon: Only SNP Standing Between Scotland And 'Hard Line' Tories
19 April 2017, 12:07 | Updated: 19 April 2017, 12:13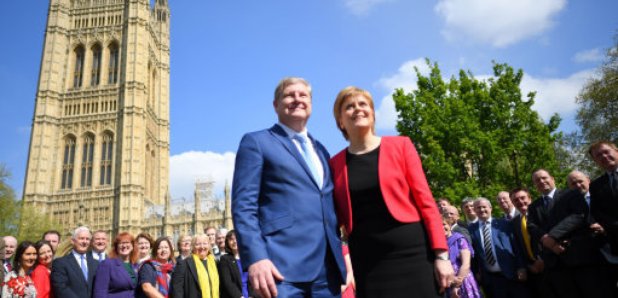 Only the SNP stands between Scotland and a "hard line'' Tory government, Nicola Sturgeon has claimed.
The Scottish First Minister said if the "parliamentary arithmetic'' supported it she would form a "progressive alliance'' to keep Theresa May from returning to Number 10.
But she said that, unlike 2015, when she proposed a similar alliance there was no prospect of Labour winning enough seats to keep the Conservatives out.
"I'm not sure there are many people who think Labour are going to be in a position, on their own or with anybody else, to form a government,'' she said.
"Only the SNP will stand between Scotland and an increasingly hard line and right wing Tory government.''
The First Minister was speaking with SNP MPs gathered outside the Palace of Westminster as the party prepared for the June 8 snap election called by Mrs May.
Ms Sturgeon said the SNP - which won 56 seats in Scotland in 2015, leaving Labour, the Tories and the Liberal Democrats with a seat each - said her party was the "real and only effective opposition to the Conservatives'' in the Commons.
She said she wanted to "win this election in Scotland and for Scotland'', warning that an increased Tory majority at Westminster would lead to a hard Brexit and more austerity.
"Since 2010 we have seen the damage that this Tory Government has done - first with no majority of its own and then with a small majority.
"We should be in no doubt what a Tory government with an increased majority would mean. It would mean not just the hardest possible Brexit but also further austerity and deeper cuts.''
She said her party would ensure that the future of Scotland is "decided not here in Westminster but in Scotland''.
Ms Sturgeon has called for a second independence referendum and said she already had a mandate for that, regardless of the general election result.
"I will be campaigning and leading a campaign in this election to return each and every one of the constituencies to the SNP that we won in 2015 and having a go at the the other three as well,'' she said.