Sturgeon orders Scottish 'sex for rent' deals probe
20 April 2017, 13:14 | Updated: 20 April 2017, 13:44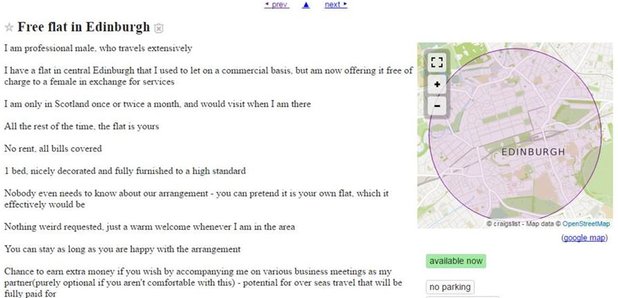 Nicola Sturgeon has ordered the Housing Minister to investigate so-called 'sex for rent' deals in Scotland.
The First Minister said she was "horrified" just days after Heart made the grim discovery.
Free accommodation is available in exchange for "services" in Edinburgh, Glasgow and Clydebank.
These deals, which are legal, appear on classified ad websites such as Craigslist.
Ms Sturgeon said Housing Minister Kevin Stewart has written to the website asking for action to be taken.
She said: "Any person always has the right to refuse to consent to sexual activity. Forcing someone, in any way to participate, is a crime".
"We continue to keep all laws under review to ensure they are fit for purpose in tackling, what I think, are unacceptable".
The issue was raised by Labour MSP Claire Baker.
She said: "We know that these sex for rent adverts have been posted online but we have no way of knowning how many tenants are in these arrangements.
"The practice does open the door to vunerable tenants who are often facing homelessness and poverty and are finding themselves in commercially expolative arrangements".
Scottish Green co-convenor, Patrick Harvie, said: "Landlord have to comply with a fit and proper persons test.
"Isn't it pretty clear that any such explotative arrangements should lead to an automatic fail of the fit and proper persons test?"
The First Minister said the answer to that was "yes".
Adverts seen by Heart from landlord in Clydebank states "free rent in exchange for favours" and "flashes of your body".
Another from a "professional man" in Edinburgh says "no one needs to know about our arrangement".
A further advert from Glasgow looks for a "friends with benefits" arrangement.
Scottish women's charities say they are appalled and want websites to take action.