Sturgeon: Oxfam scandal must not "cover" cuts
19 February 2018, 16:33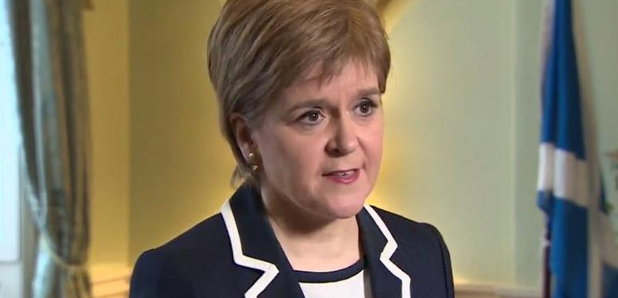 The Oxfam aid scandal must not be used as "cover" by those who want the UK to slash the help it provides to poorer nations overseas, Nicola Sturgeon has said.
The First Minister was clear that any sexual misconduct by aid workers was "completely and utterly unacceptable" and must be dealt with "appropriately".
But with "no shortage of people within the current UK Government who would want to see the international aid budget decimated or removed altogether", Ms Sturgeon spoke out about the "good work" the sector carried out in struggling and disaster hit nations.
Her comments came as Oxfam officially released the findings of its investigation into the actions of relief workers sent to Haiti in the aftermath of an earthquake which killed thousands of people in 2010.
The report into the sex scandal concluded charities should be warned about "problem staff" - only for several accused of abuse to successfully take up future posts in the aid sector.
The charity made the recommendations at the end of a report which detailed four dismissals and three resignations over allegations ranging from the use of prostitutes on charity property to sexual exploitation of employees.
Suspicions that children had been exploited "cannot be ruled out", according to the document.
Prime Minister Theresa May described the behaviour uncovered by the report as "horrific".
The UK is one of only a handful of countries to meet the United Nations target of spending 0.7% of Gross National Income on overseas aid.
Speaking during a visit to Levenvale Primary School in West Dunbartonshire, Ms Sturgeon said: "I'm absolutely of the view, whether it's in the aid sector or Hollywood or politics or wherever we've seen this type of behaviour, it's absolutely vital that it's not tolerated and that steps are taken to make sure it doesn't happen in future.
"But we've also got to be clear that the aid sector does good work and it's important in condemning the revelations that we've heard that we're not allowing those - and let's be pretty frank about this - we know there are no shortage of people within the current UK Government who would want to see the international aid budget decimated or removed altogether and we must not allow this kind of situation, unacceptable though it is, to be used as cover for that broader political view point."
She stated: "I don't think we can assume that any charity or any element of society is immune from individuals, minorities of individuals, behaving in a way that's unacceptable and we've got to be firm that behaviour like this cannot and will not be condoned, it is completely and utterly unacceptable."
Meanwhile Scottish Conservative leader Ruth Davidson said that defending the UK's foreign aid budget had been made harder by the Oxfam scandal.
On Sunday it was reported Scottish based charity The Halo Trust, which works to clear landmines from affected areas, had suspended a staff member following a sexual assault allegation.
The Scottish Catholic International Aid Fund (Sciaf) last week reported two cases of alleged sexual misconduct involving children, while Mary's Meals said it had dismissed a staff member over an "inappropriate relationship" with an adult.