Sturgeon says Tories still have election expenses questions to answer
10 May 2017, 13:30 | Updated: 10 May 2017, 13:31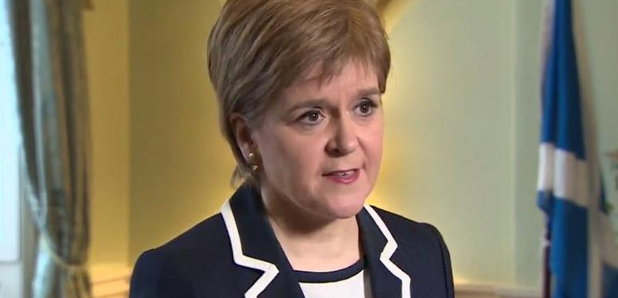 The Conservatives still have "significant questions to answer'' over their election expenses, SNP leader Nicola Sturgeon has said.
Scotland's First Minister also called for a review of the Electoral Commission's "clout'' as she reacted to the news no criminal charges are to be brought in relation to the Tories' campaign spending.
The Crown Prosecution Service (CPS) said even though spending returns submitted by some of the party's candidates and officials may have been inaccurate, there was insufficient evidence to prove they were knowingly dishonest.
The Tories have already been fined a record £70,000 by the commission for "numerous failures'' in reporting their expenses for the 2015 general election and three by-elections in 2014.
Speaking on the General Election campaign trail in East Dunbartonshire, Ms Sturgeon said: "I think the Conservatives still have some questions to answer over their election expenses from the last election.
"What we've heard from the CPS today is that they don't have evidence of criminal intent but they say there may be evidence of inaccuracies in some election returns, and of course the Electoral Commission has already levied fines against the Conservatives in relation to expenses at the last election.
"I think there is certainly a doubt over the Tories about whether they were really playing by the rules at the last election and there's still some significant questions to answer.''
Ms Sturgeon previously claimed Theresa May called June's General Election in part because she feared numerous Tory MPs would face prosecution.
She told the Scottish Trades Union Congress last month that "we should not allow the Tory party to escape the accountability for any misdemeanours that may have led to them buying the last general election''.
SNP Westminster candidate Pete Wishart said the party backed "urgent reforms'' to the elections system.
"A vote for the SNP at this election is a vote to ensure tougher rules and higher standards are introduced,'' he said.
"A strong team of SNP MPs at Westminster will support new powers for the Electoral Commission, giving them the legal authority to investigate offences and providing them with much higher sanctioning powers.''
Ms Sturgeon added: "One of the lessons perhaps for all of us out of this is do the Electoral Commission need more clout?
"Because the level of fines they're able to apply are very low and I think the time might be right to increase that substantially so that all parties know that if they breach these rules then there is a heavy price to pay.''
The Conservative Party has always maintained administrative errors were to blame for any inaccuracies, describing police complaints as "politically motivated and unfounded'' .