First Minister Holds Talks With EU's Chief Brexit Negotiator
13 July 2017, 05:34 | Updated: 13 July 2017, 11:44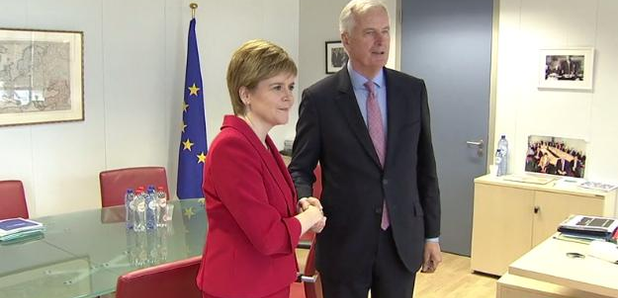 Nicola Sturgeon has met the EU's chief Brexit negotiator to brief him about Scotland's priorities.
The private meeting with Michel Barnier took place in Brussels ahead of the second round of formal Brexit negotiations next week.
Mr Barnier is also meeting Welsh First Minister Carwyn Jones, as well as Labour leader Jeremy Corbyn, in the Belgian capital to discuss the progress of the talks.
The Scottish Government said its priority is building consensus against an extreme Brexit outside the single market and protecting Scotland's vital interests.
Mr Barnier has stressed he will only negotiate with the UK Government.
A spokesman for Ms Sturgeon said: ''This is an opportunity to brief Mr Barnier on Scotland's priorities and seek to enhance our understanding of the current EU position as Brexit negotiations continue.
''Our priority is protecting Scotland's vital interests and building consensus against an extreme Brexit outside the single market, which would be potentially disastrous for jobs, investment and living standards.
''This is not about holding separate Scottish negotiations - we have always accepted that the EU will only negotiate with UK, which is why we will continue to work hard to influence the UK position.''
Mr Barnier said Britain must offer more clarity on its position on the ''divorce bill'' financial settlement with the EU - as well as the status of expat citizens and the nature of the future border with the Republic of Ireland - if it is to make progress towards a deal on trade arrangements after Brexit.
Speaking ahead of the meeting, Scottish Liberal Democrat deputy leader Alistair Carmichael MP said: ''With 80,000 Scottish jobs at risk, the First Minister must use this meeting to push Mr Barnier to acknowledge that article 50 is revocable as Donald Tusk and the European Parliament have done.
''What's more Nicola Sturgeon should commit to doing the right thing for the whole of our country and support giving the British people the final say on the future of our country at the end of the negotiation process, not leaving it to politicians and bureaucrats to stitch up.
''The First Minister should remember that she is in Brussels to represent all of Scotland.
"Rather than use this trip to bang on about independence, she should recognise that the best way to keep Scotland in the EU is to keep the whole of the UK in the European Union.''
Scottish Labour's Europe spokesman Lewis Macdonald MSP said: ''Unlike the Tories, Labour wants a jobs-first Brexit that will prioritise the economy, jobs and living standards - and that is what Jeremy Corbyn will outline when he meets Mr Barnier.
''Nicola Sturgeon should join this fight for a fair Brexit rather than simply using this process to agitate for independence.''