Sturgeon Told "Give It A Rest" On Indy
24 May 2018, 14:33 | Updated: 24 May 2018, 14:36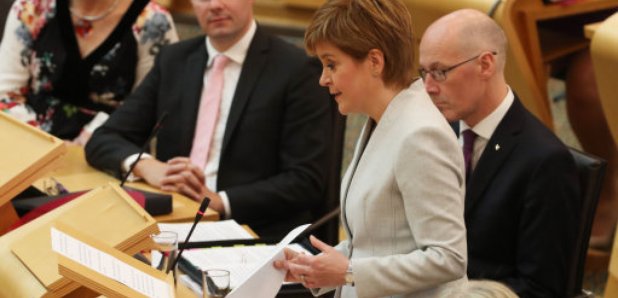 Nicola Sturgeon has hit back at Tory claims she should "give it a rest" when it comes to Scottish independence.
The First Minister was criticised by the Conservatives, who accused her of ditching Scotland's education system as her number one priority.
When pressed on what the most important issue facing Scotland is, the SNP leader stressed the importance of "growing the economy".
Both the Tories and Labour accused her of spending more time making the case for Scottish independence as they called on her instead to focus on improving schools and the NHS.
Scottish Conservative leader Ruth Davidson said: "She has repeatedly claimed education is her number one priority, and so it should be, but the facts show different.
"With her, it is independence first and everything else a long way behind, and the country is asking 'Why won't she give it a rest?'"
Ms Davidson challenged her on the issue the day before the SNP is due to publish a long-awaited report on the economic prospects for an independent Scotland, produced by the Sustainable Growth Commission that was established by the party in 2016.
The Tory accused the First Minister of "dragging Scotland back down the rabbit hole of a debate on independence".
She claimed there are fewer school pupils getting Highers in key STEM (science, technology, education and maths) subjects now than there were in 2014 - the year that Scots voted against independence.
The Conservative added: "It is a mystery to me how spending months restarting the debate about independence is going to do anything to improve that."
She also said just four of the 91 P1 to P3 classes in Ms Sturgeon's Glasgow Southside constituency met the target of having 18 pupils or less, which was set by the SNP in 2007.
Ms Sturgeon insisted the Scottish Government had set out "an ambitious package of reform on education", going on to say the number of people with Highers in science subjects rose by 9.6% between 2007 and 2017.
She also hailed initiatives such as the government's School Attainment Fund and the Pupil Equity Fund, saying these were "transforming education".
The First Minister added: "If Ruth Davidson got out a bit more and spoke to more teachers, she would find that that is exactly what they are saying as well."
She recalled that Ms Davidson had called on her to "give it a rest" earlier this week - but pointed out she had made those comments in a speech in London that was focused on the constitution.
"Some people might say that is a tad hypocritical of Ruth Davidson, I of course couldn't possibly comment," she said.
"The truth about Ruth Davidson is she loves nothing more than talking about the constitution, she just doesn't want the case for independence to get a hearing. Well, I am sorry we are going to have to disappoint her on that front."