Tax Rises For Higher Earners
14 December 2017, 15:07 | Updated: 14 December 2017, 15:09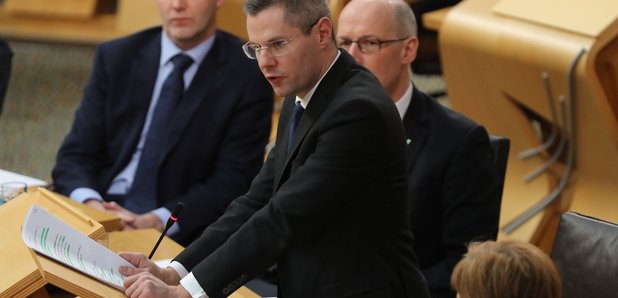 Holyrood's Finance Secretary has insisted most Scots will pay less income tax next year, despite increasing charges for higher earners.
Derek Mackay announced a number of changes to income tax in his draft Budget for 2018-19, including increasing the charge to 21p for those earning more than £24,000 a year.
The higher rates of income tax are also being increased, going to 41p and 46p, but Mr Mackay is also bringing in a new "starter rate" of income tax.
As a result of that, combined with the increase in the personal allowance, he said all those people earning up to £33,000 a year would be protected from any increase.
"Those earning more than £33,000 will pay only a proportionate amount more," he told MSPs at Holyrood.
Mr Mackay vowed the changes he announced will make "Scotland's income tax system even fairer and more progressive".
He took the decision to increase income tax for the very top earners - those on a salary of £150,000 a year or more - by 1p after a report from the Scottish Government's chief economist said bringing back the 50p top rate in Scotland alone could see the Scottish Government lose money.
The Finance Secretary said: "I will increase the higher and top rate of tax by 1 percentage point to 41p and 46p respectively.
"This sets the top rate of tax at a level which will generate the most income with the the least risk of losing revenues next year and damaging the economy.
"Had we gone further our modelling indicates that once behavioural effects of forestalling are considered a higher rate could actually reduce income tax revenue next year and that's not a decision any sensible government would take."
He continued: "I will freeze the basic rate at 20p but to make the system more progressive I will introduce a new intermediate grade of 21p.
"The intermediate rate will apply to incomes between £24,000 and the higher rate threshold of £44, 273, which will increase in line with inflation only."
Mr Mackay went on: "To make Scotland's income tax system even fairer and more progressive I've chosen to make one further change. I can announce today that I will introduce a new Scottish starter rate of income tax of 19p.
"This new rate will apply to the first £2,000 of taxable income between £11,850 and £13,830. This new starter rate combined with the increase in the personal allowance will ensure that no one earning less than £33,000 which is 70% of all taxpayers will pay any more in tax than they do now."