Third set of twins from same Renfrewshire family prepare for first day of school
15 August 2018, 06:25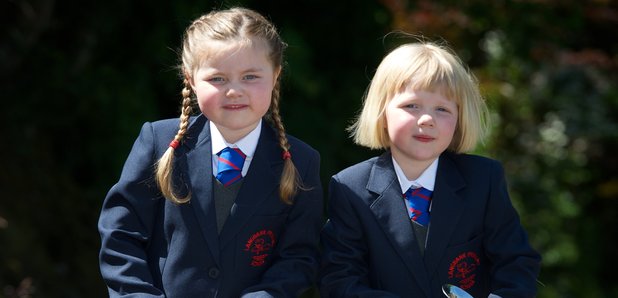 A third set of twins from the same family are preparing for their first day at school.
Twin girls Rowan and Isla Rodger made headlines after their birth in 2013, following on from older brothers Lewis and Kyle born in 1998, and Finn and Jude in 2001.
The chances of three sets of twins for mother Karen and husband Colin were said to be 500,000 to one and they are now waving them off to their first day at school after a "blurry" five years.
The girls will follow in the footsteps of their older brothers when they start primary one at Langbank Primary School in Renfrewshire this week.
Mrs Rodger, 47, said: "It is so emotional seeing the girls in their uniforms and off to start their school adventure.
"I was absolutely fine until one of my older boys Lewis said to me he thought I was going to cry when I was dropping them off. I insisted I wouldn't then he confessed that he cried too.
"I think we were all bubbling but the girls have been so excited to start school, I think because they know their brothers went here."
Lewis and Kyle, 19, are both at university while Finn and Jude, 17, are in their final year of secondary school at Park Mains High in Erskine.
All the boys still also live at home and along with their parents, their phones are all synced to one planner so everyone knows where everyone is.
Each member of the family also has their own colour coded towels.
Mrs Rodger said: "After four boys I never felt finished and when I hit 40 I thought 'it's now or never'.
"When I was pregnant for the third time it didn't cross my mind it'd be twins again. I had a scan at six weeks when Colin was away on business and he nearly fell off his chair when I told him.
"After the girls were born it all seems a bit blurry life was so hectic."
She added: "I'm a million times more relaxed with the girls and I think as a family of boys they brought us even closer together. I think the boys will be amazing dads and husbands as they were a great help when they were born and still babysit the girls.
"It's been an absolute joy but girls are definitely different to boys. They were negotiating with me aged three."
Langbank Primary head teacher Simon Cundy said: "We are absolutely delighted to welcome the third set of twins from the Rodger family to the school. I know Rowan and Isla are very excited to be following their big brothers Lewis, Kyle, Finn and Jude.
"I'm pretty sure we must be the only school in the country which can make the claim to fame to have educated so many twins from the same family and we all wish the girls every success in the first steps of their school career."