Tierney May Miss Scotland/England Match
28 May 2017, 09:33 | Updated: 28 May 2017, 09:36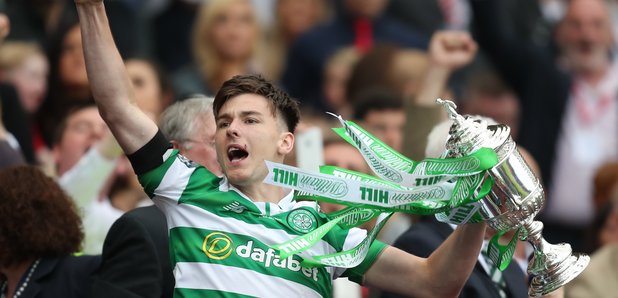 Celtic boss Brendan Rodgers revealed Kieran Tierney could require an operation on his mouth after being injured during their dramatic 2-1 William Hill Scottish Cup final win over Aberdeen.
The 19-year-old required lengthy treatment midway through the first half after being caught by Aberdeen striker Jayden Stockley's arm and had to be replaced by Tom Rogic, who scored an injury-time winner.
The full-back is now a major doubt for Scotland's World Cup qualifier against England at Hampden on June 10.
On his official Twitter account, the Celtic defender wrote: "Worth a broken jaw haha'', which accompanied photographs of him sitting in the dressing room holding the trophy.
Rodgers said: "His mouth is a bit swollen. He may need an operation on his mouth. He is still here and got his medal.
"I think the teeth had come through the palate in the top of his mouth. I can't imagine how sore that is so he'll need some sort of protective surgery.
"He'll need a specialist to look at it, so I don't want to rule him in or out (of the England game).''
Tierney went to hospital for some initial treatment, but returned just in time to collect his medal and lift the trophy.
Team-mate Patrick Roberts, who had taken Tierney's number 63 shirt up to the podium before his close friend returned, said: "He said he was at hospital at half-time so when the final whistle went and he wasn't there, with him being Mr Celtic himself, he'd want to be there.
"The fans love him to bits - he's the golden boy - so I thought I'd get his shirt and show them he's a big part of Celtic.
"He got back just in time to go to the podium. I'm glad he came back and I'm glad he's okay. He's a tough cookie.''
Defender Dedryck Boyata was surprised to see Tierney return.
"Yeah, because I heard he'd lost two teeth - but he said there he had a broken jaw as well,'' the Belgian said.
"You see his character, he wanted to be back for all of us and everything is fine.
"He's a fighter, we all know it. Him coming back with two teeth less and a broken jaw, it just tells you what kind of person he is.''
No action was taken against Stockley, who was sent off against Rangers earlier this month after twice catching players with his arm.
Rodgers said: "My initial reaction is that is twice it is happened because he (Tierney) took a heavy elbow up at Pittodrie in the game we won 3-1.
"He was down and out for a while in that game. It is a difficult one because when two players are running that can happen.
"But for it to happen again... I don't want to comment too much because I need to see it again.
"I'm just surprised the officials, and especially the fourth official, didn't see it and there was nothing done on it.''