Tories Call For Weapons In Schools Figures To Be Made Public
5 October 2017, 13:25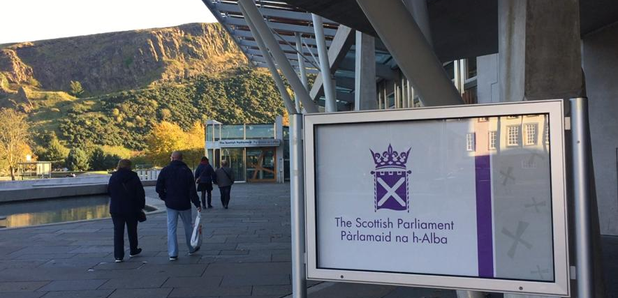 Scottish Conservative leader Ruth Davidson has called for information on knife crime in schools to be made publicly available by councils following the death of Aberdeen pupil Bailey Gwynne two years ago.
Ms Davidson said there was "no meaningful picture of the extent of the problem in any area" because almost half of local authorities were unable to confirm how many weapons had been taken from pupils in their schools.

She raised the issue at First Minister's Questions at Holyrood as new figures revealed that 254 children under 16 were referred to the children's reporter last year for carrying knives and other weapons.

Bailey, 16, was stabbed to death by a fellow pupil during a fight at Cults Academy in October 2015.

Following his death, the Scottish Government said councils would be required to develop their own policies for dealing with weapons in schools, while new guidance made clear that any incident must be monitored and recorded at a local level.

Ms Davidson said: "In fact in a large number of cases this information is not collated or in any way publicly accessible.

"In response to recent freedom of information requests, nearly half of Scottish councils were unable to confirm the number of weapons confiscated from pupils in their areas, because that information was not held centrally.

"And that is information that I think parents and the wider public should have the right to know, and the fact that it is not fully accessible means that we have no meaningful picture of the extent of this problem in any area."

Ms Davidson said Aberdeen City Council, in the wake of Bailey's death, had introduced measures to ensure a "clear picture" of knife crime in schools and an anti-knife crime policy.

"Does the First Minister agree that it's time that all councils met that same standard, and will her government undertake to examine this matter again to ensure that all schools are the safe environment that parents have the right to expect?" Ms Davidson asked.

Nicola Sturgeon said: "It is for councils to make sure that they are taking the action that adheres to the guidance in all respects of that guidance.

"Let me say quite clearly today I would expect, and I know the Education Secretary would expect councils to do just that.

"Certainly I agree that we would want to see all councils operating against best practice, and Aberdeen City Council for very tragic reasons has had cause to look very carefully and critically at the policies it has in place."

She agreed to look further into the issue, adding: "I am acutely aware, particularly on issues like this, that parents listening to this will not be particularly concerned about whose responsibility it is, what parents will want to know is that schools are as safe as possible for our young people and that is a responsibility the Scottish Government takes very seriously."