Tory MP accused of trivialising dictatorship
18 April 2018, 17:26 | Updated: 18 April 2018, 17:40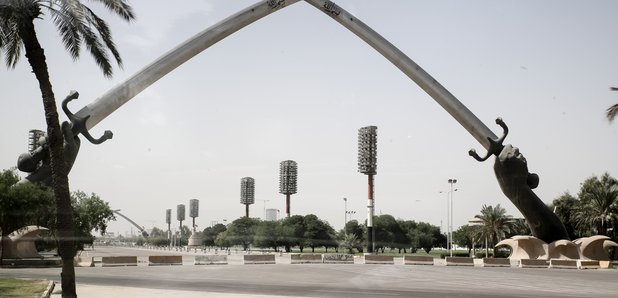 A Conservative MP has been accused of "trivialising" the dictatorship of Saddam Hussein while on a fact-finding visit to Iraq.
Ross Thomson, who represents Aberdeen South, joked about channelling his "inner dictator" during a visit to Saddam's infamous military parade ground in Baghdad.
Pictures posted on a private Facebook group and obtained by the Herald newspaper show the MP pretending to hold the notorious Victory Arch - a symbol of Saddam's brutal rule - in his hands as well as sitting on the dictator's throne.
Alongside a smiling emoji wearing sunglasses, Mr Thomson wrote: "Another terrific day in Iraq.
"I was able to channel my inner dictator with a visit to Sadam's [sic] military parade ground The Swords of Qadisiyah (Victory Arch) and then sitting on Saddam's throne at the British embassy."
The MP later said he did not intend to cause offence with the post.
SNP MSP Gillian Martin said: "Any politician appearing to glorify or trivialise the heinous atrocities committed by Saddam Hussein and his regime should be ashamed of themselves.
"Saddam Hussein oversaw an effective genocide of hundreds of thousands of Kurds, summary executions of political prisoners, the use of rape as a political weapon, state-sanctioned bodily disfigurement of those who disagreed with him and chemical attacks against his own people.
"For a Tory MP to be so crass on this latter point this week of all weeks is beyond belief. Ross Thomson may try and pass this off as a piece of ill-judged buffoonery - but his behaviour is a disgrace.
"The Tories should take swift and appropriate action against Ross Thomson. Sitting idly by as one of their politicians treats the legacy of a brutal dictator as a joke would be completely unacceptable."
Mr Thomson said: "There was absolutely no intention whatsoever to cause offence. My views on Iraq and the value of UK intervention in the region are very clear.
"Britain and our allies liberated Iraqis from the prison that was life under Saddam. It was the right thing to do.
"I find it astonishing that Gillian Martin and the SNP, who refused to back UK action in the face of a heinous chemical weapon attack in Syria this week, want to make an issue of this. I would urge Ms Martin to visit the region herself and perhaps learn something about the Middle East."