Tory MSP Faces Sanctions Over Failing To Register Housing Interest In Questions
28 September 2017, 13:23 | Updated: 28 September 2017, 13:25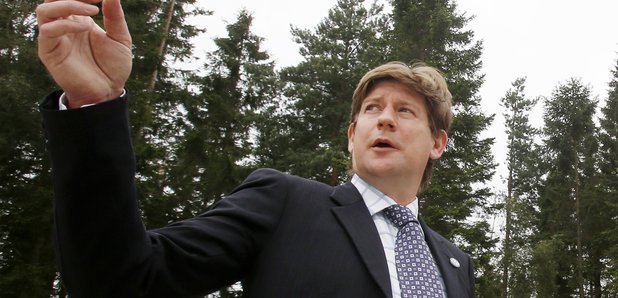 A millionaire MSP is facing sanctions at Holyrood for failing to register an interest when asking questions.
Members of the Scottish Parliament's Standards Committee have recommended that Conservative Alexander Burnett be barred from lodging any written questions for two weeks.

It comes after former SNP MSP Christian Allard made a complaint the Tory had failed to register an interest he had in a housing development in Banchory when he put forward five questions in August 2016.

The Commissioner for Ethical Standards in Public Life investigated the matter and concluded Mr Burnett, the MSP for Aberdeenshire West, was in breach of the regulations.

Standards Committee convener Clare Adamson said they agreed with this and added they considered "the breach justifies the imposition of a sanction on Alexander Burnett".

MSPs at Holyrood will now be asked to agree the two week ban on Mr Burnett lodging questions - but Tory leader Ruth Davidson is also being urged to apologise for her party's response to the matter.

When Mr Allard lodged his complaint, the Tory press office responded with a statement which said: ''Some people may find it bizarre that an EU citizen has an interest in a planning application in Banchory."

The former MSP, who is now a councillor in Aberdeen, said: "Ruth Davidson now needs to face up to this embarrassment for the Tories - condemn Mr Burnett's actions and finally offer a full apology on behalf of her party for ever questioning the right of an EU citizen to have their voice heard on a legitimate matter of public concern."

Mr Burnett stated: "It was my judgement at the time that there was no conflict of interest as I was simply acting on behalf of several hundred very concerned constituents.

"However, I accept the decision of the committee in this case and will not contest any sanction that is imposed.

"I will also be advising my party colleagues to support the recommendation of the committee when it comes to the chamber for a final decision."

As well as being the director and chairman of a property development and letting company in Banchory, the Tory MSP is also the owner of what he describes as a ''property leasing and forestry undertaking'' there and owns an estate with a market value of about £10 million.

Two weeks ago he was admonished by the Holyrood's Standards Committee for failing to register interests for two written questions he had submitted to the Scottish Parliament in February.

Mr Allard stated: "This is a very serious matter indeed, but it's not a first for Alexander Burnett. In fact, it's the second time in two weeks he's been reprimanded for playing fast and loose with parliamentary rules.

"These rules are in place for good reason - to ensure fairness, transparency and to reassure the public that MSPs are putting their constituents first, not their own business interests.

"This behaviour is the worst kind of self-serving politics, which not only seriously undermines trust in Mr Burnett, but also damages the credibility of the Scottish Parliament itself.

"It's high time Mr Burnett was brought to book for treating the people of Aberdeenshire West with such contempt.

"He owes them a public apology for his actions - after all, if he's having his wings clipped in parliament then they lose their voice at Holyrood as a result. For that, Mr Burnett has only himself to blame."