Tributes paid to Italian family after Moray crash
30 July 2018, 13:12 | Updated: 30 July 2018, 13:15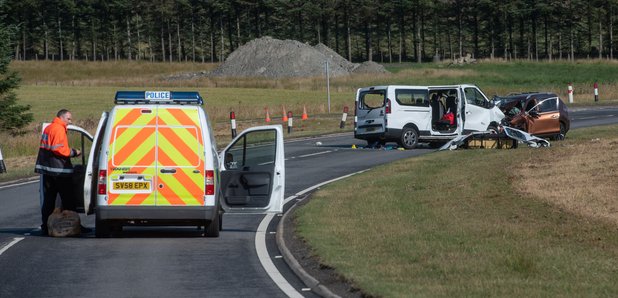 Tributes have been paid to the Italian family caught in a crash on the A96 that left five people dead.
The youngest victim has been named as four-year-old Lorenzo Ciociola, with his parents continuing to be treated in hospital.
A fourth family member, a three-year-old boy, was treated for minor injuries.
They were travelling in a minibus with two other Italians that crashed with a Nissan X-Trail on the A96 in Moray just before midnight on Thursday.
Ted Reid, Evalyn Collie and Audrey Appleby were killed in the car while Lorenzo and a woman in the minibus also died.
Bruno Mancuso, an Italian senator from Sicily, said Lorenzo's father Alfredo was a coastguard officer and that their local community was in "deep grief".
He wrote on Facebook: "I am deeply saddened and dismayed by the tragedy that has struck lieutenant Alfredo Ciociola, commander of the maritime district office of Sant'Agata Militello, who in a tragic road accident in Scotland last Thursday, lost his four-year-old son.
"His wife is in a coma. The whole of the community tightens up to him and his family and expresses pain and deep grief."
The three people who died in the car lived in the local area and had been travelling back from a country music night in Elgin at the time of the crash.
The driver of the car, named locally as Morag Smith, 39, from Aberchirder, Aberdeenshire, was seriously injured and is being treated at Dr Gray's Hospital in Elgin.
The four regularly attended a country night held once a fortnight by Elgin Country Music Club and had been at a performance on the night of the crash.
The club's president Billy Main said: "They were just very nice people. You just can't take it in, it's unbelievable really.
"It was a shock enough to hear about the crash and then you realise it's people you know just going home."
Friends and members of the club have posted messages of condolence and remembered the three as "really lovely people".
The Italian Honorary Consulate in Aberdeen said it is supporting the families of the Italian citizens caught up in the tragedy.
Officers investigating the cause of the crash have appealed for any witnesses to come forward and for dashcam footage to be submitted to them.