Trump faces further protests as he heads to Scotland
13 July 2018, 07:17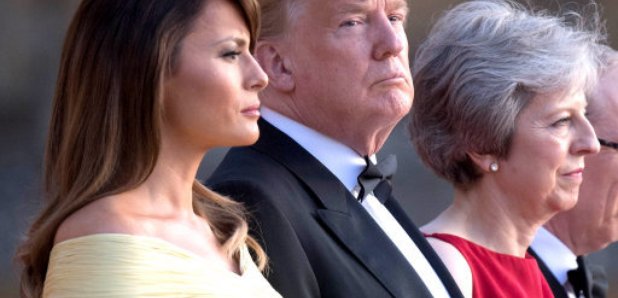 Donald Trump will fly into further protests when he arrives in Scotland.
The US president is due to travel to Scotland on Friday evening after meeting the Queen at Windsor Castle.
Several demonstrations are planned to coincide with the private Scottish leg of his UK visit.
Campaigners will demonstrate against Trump administration policies, including the travel ban and separation and detention of migrant children and their families at the Mexico-US border.
Senior political figures, including Scottish Labour leader Richard Leonard and former government minister and current SNP depute leader Keith Brown, will make speeches telling demonstrators that Mr Trump is not welcome in Scotland and the country stands united against him.
Planned protests include a rally in Glasgow's
George Square on Friday and a national demonstration at the Scottish Parliament in Edinburgh the following day, along with a "Carnival of Resistance" in the Meadows area of the capital.
Campaigners will also gather outside the Trump International Golf Links in Balmedie, Aberdeenshire, on Saturday, and it is predicted there could be further demonstrations at Trump Turnberry where the president is expected to play golf.
Mr Brown, due to speak at the Glasgow rally, said: "Scotland today stands united - with people from all backgrounds and all nations - against Donald Trump.
"We will send a message to Donald Trump that Scotland rejects the abhorrent treatment of little children on the US-Mexican border.
"Scotland opposes his attempt to wreck the Paris Climate Agreement and his vilification of Muslims. We also oppose his barbaric language and treatment of women.
"Our message will be clear: Scotland rejects Trump's politics of division and hatred and we stand with our friends in the US who oppose him."
Mr Leonard will also speak at the Glasgow event as well as joining the Edinburgh march, which will also hear from SNP MP Tommy Sheppard.
The Scottish Labour leader said: "Donald Trump is not welcome here.
"The horrific scenes at the Mexican border are a repudiation of decent human values. Caging children like animals is barbaric.
"We cannot roll out the red carpet for a US president who treats human beings this way."
Scottish Green co-convener Patrick Harvie will address the Glasgow rally, telling demonstrators that Scotland stands in solidarity with people in the US who are threatened and marginalised by the Trump administration.