22 Pupils Taken To Hospital After School Bus Crashes Down Embankment
9 February 2017, 10:09 | Updated: 9 February 2017, 16:43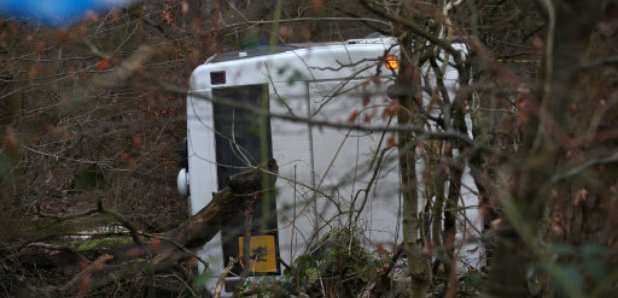 Twenty-two pupils have been taken to hospital after a bus carrying more than 40 schoolchildren overturned and crashed down an embankment.
The incident happened at Dowanfield Road near Our Lady's High School in Cumbernauld, North Lanarkshire, at around 8.45am.
A major incident was declared and 29 ambulance service units went to the scene, along with police and the fire service.
No serious injuries were reported, however 22 pupils were taken to hospital as a precaution
One girl was taken by ambulance to Wishaw General Hospital while 10 patients were taken to Monklands Hospital in Airdrie and 11 to the Royal Hospital for Children in Glasgow.
Ashleigh Douglas, 30, of Ravenswood, Cumbernauld, was going to the shops with her five-year-old daughter Esther when she saw the bus go down the embankment.
She said: "It's a very dangerous road. It leads down to the football pitches at the bottom.
"I saw the bus turn the corner and it clipped the kerb. It looked like the left-hand wheel had caught fire and then all of a sudden it went over the embankment.
"Luckily Esther never saw anything and just saw the police arrive.''
The white bus could be seen lying on its side down an embankment near a tight bend in the road, which was closed while emergency services dealt with the incident.
North Lanarkshire Coucil education leader has been talking to Heart:
Danny McNulty, head teacher at the school, said: "An incident took place this morning where one of our school buses overturned.
"As a precaution a number of pupils were taken to hospital. Thankfully it would appear there are no serious injuries.
"I would like to thank the emergency services for their speedy response this morning, and the entire school community who pulled together at this difficult time to support one another.
"Our parents, staff and chaplain have been a valuable support to our young people at this time.
"We are planning to hold assemblies this afternoon to update our staff and pupils on the situation and to thank them for everything they have done today.''
A Scottish Ambulance Service spokesman said: "The Scottish Ambulance Service responded to a call at 8.44am today.
"We dispatched multiple resources, including accident and emergency units, trauma team, special operations response teams, incident managers and patient transport service vehicles to an address on Dowanfield Road, Cumbernauld.
"The first unit arrived on scene at 8.50am. There was multi-agency co-ordination at the scene.
"A major incident was declared and all relevant health boards were informed.''
Deputy First Minister and Education Secretary John Swinney praised the response of emergency services.
He said: "While it is welcome news that nobody has been seriously hurt in this incident, it must have been a terrifying experience for those involved.
"I am sure everyone connected to Our Lady's High School and the wider community will be grateful for the quick and professional response by the emergency services and the excellent care now being offered to those with injuries.''