Two men jailed over £500m Gleneagles raid
24 October 2018, 12:01 | Updated: 24 October 2018, 12:17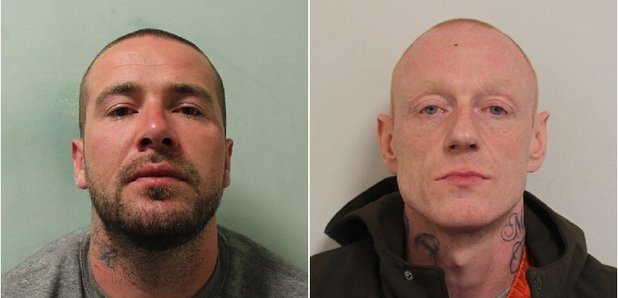 Two men have been jailed for their roles in a £500,000 armed robbery at the prestigious Gleneagles Hotel.
Richard Fleming and Liam Richardson carried hammers, a machete and a pistol when they raided the famous hotel in Auchterarder, Perthshire, on June 27 last year.
The masked men made off with dozens of high-value Rolex watches worth more than half a million pounds, which have not yet been recovered.
Fleming, 42, from London, who denied being involved, was given an 18-year sentence - with an extended period of licence of three years - at the High Court in Edinburgh on Wednesday.
Richardson, 30, also of London, was given 11 years and four months.
Sentencing, judge Lady Carmichael said: "You took hammers, a machete, and a self-loading pistol, or an item that resembled one, to Gleneagles hotel in order to commit a robbery.
"In the course of about two minutes in the hotel, you had taken Rolex watches worth in excess of half a million pounds from the Mappin & Webb jewellers there.
"There was CCTV footage which illustrated very clearly how staff and guests fled in fear as you entered the hotel masked, armed and dressed in dark clothing.
"They clearly had no way of knowing whether or not the firearm was a genuine one.
"The robbery was an act of serious, premeditated criminality which involved significant advance planning."
While being led out of the court room, Fleming made a rude hand gesture to Lady Carmichael and called her a "rat".
The nature of the assault and the level of violence led staff and visitors to the complex to think they were witnessing a terror attack, police previously said.
The raid at the remote site - which staged the 2014 Ryder Cup - was highly-planned and lasted for less than three minutes.
Armed with the weapons, Fleming and Richardson ran into the hotel and smashed up the display cabinets at the Mappin & Webb boutique within the complex.
A painstaking investigation into the raid was launched by detectives, which ultimately involved more than 200 officers around the UK.
Police work included scrutinising hours of CCTV footage and identifying the two vehicles used in the raid.
A couple of housebreakings earlier in the month in St Andrews, Fife, also led police towards identifying the suspects, who were arrested in London a few weeks after the Gleneagles attack.
Fleming's lawyer said the father of a young child - who has a number of previous convictions - had a difficult upbringing and has had a drug problem for much of his life.
The court heard he took part in the crime to gain money for his drug habit.
Richardson's lawyer said his client - who also has a number of previous convictions - had been employed as an apprentice plumber at the time of the offence and was taking part to help out a family member who had got into debt.
He added: "Mr Fleming is not an unintelligent man. He has expressed genuine remorse for his involvement in this matter."
The High Court jury returned majority guilty verdicts against Fleming in September on a charge of armed robbery and two of assault after two and half hours of deliberations.
Fleming earlier admitted breaking into houses in St Andrews on June 12, 2017, around two weeks before the Gleneagles raid.
His extended period of licence was imposed because Lady Carmichael considers he would still present a danger to the public.
Richardson earlier pleaded guilty to the armed robbery charge.