Unions in talks with ministers over BiFab future
23 February 2018, 06:36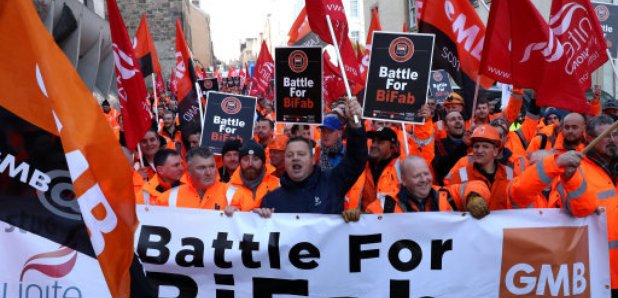 A union has moved to reassure workers at engineering firm BiFab that everything possible is being done to secure the future of their jobs.
The company last week notified staff and the Scottish Government of the potential for redundancies, with union leaders warning that 260 jobs could go at yards in Fife and Arnish on Lewis by the summer.
In November, the yards were threatened with closure over a dispute with a major sub-subcontractor on the Beatrice wind farm contract for the Cromarty Firth.
The Scottish Government brokered a deal to stave off administration until the end of the project but BiFab said work is almost complete with no future contracts currently in place.
Union representatives met the Scottish Government's Economy Secretary Keith Brown on Thursday afternoon to discuss what they describe as an anxious time for their members and their families.
GMB Scotland secretary Gary Smith said afterwards: "We've always been clear that BiFab needs investment and a plan that defends our members' jobs, yards and communities.
"We believe the Scottish Government shares these priorities and they are doing all they can to deliver this objective, as they have done since November.
"We are now at a crucial moment and we have stressed to ministers the anxieties of our members and their families.
"Time is of the essence but I would say this to our members: Everyone is doing everything in their power to secure your futures."
Mr Smith described the workforce as "world-class" and said it is vital to Scotland's ambitions for manufacturing in the green economy.
"Make no mistake, this is an issue of national interest and everyone is pulling together," he said.
"I would urge that we give the Scottish Government the space and support to continue their negotiations and efforts to bring home the investment that delivers the positive outcome we all want to achieve."
BiFab has previously said it is working with the government, Scottish Enterprise and unions "to do everything possible to avoid redundancies within the business".
Economy Secretary Keith Brown described the talks with unions as "positive and constructive".
"We have a shared aim of solving the BiFab issue as soon as possible," he said.
"This is an anxious time for the workers at BiFab and their families. They have continued throughout this time to show great resilience and a commitment to fulfilling the contracts in place, in spite of what they have been facing.
"I will remain in regular contact with the unions and the company, while together we work tirelessly to offer support for those workers and try to identify a long-term resolution."