Winter pressures hit A&E waiting times
19 December 2017, 11:37 | Updated: 19 December 2017, 12:06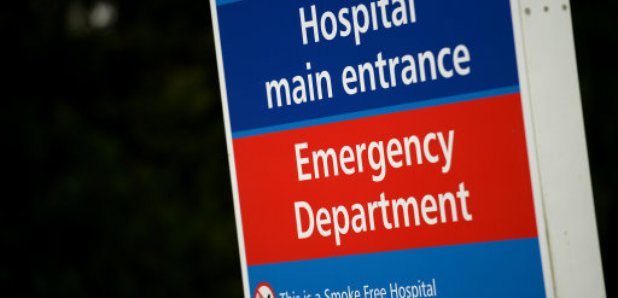 Scotland's accident and emergency departments have recorded the worst performance against a key waiting target since March 2015.

The latest figures for the week ending December 10 show that 86.9% of patients were seen and either admitted, transferred or discharged within four hours, well below the Scottish Government's 95% target.
A total of 450 patients spent more than eight hours in an emergency department while 107 waited for more than 12 hours.
The worst-performing health board was NHS Lothian (77.3%) followed by NHS Forth Valley (83.4%) and NHS Greater Glasgow & Clyde (84.9%).
The Royal Infirmary of Edinburgh had the poorest performance of any single site at just 64.1% of patients seen within the required time.
Health Secretary Shona Robison said that with the start of winter, flu, respiratory illnesses, slips and trips had piled pressure on emergency departments, with NHS Lothian particularly hard hit.
Scottish Government officials are to work with the health board to help tackle waiting times and delayed discharges at the Royal Infirmary of Edinburgh.
The government said £22.4 million is being invested this year across Scotland to address issues over the busy winter period.
Ms Robison said: "Cold weather and particularly black ice is affecting the performance of our A&E departments and, while we expect waiting times to fluctuate from week to week in winter, there is no doubt that slips and trips and flu-like illnesses have significantly increased the pressures on our hospitals recently.
"Boards are working hard to mitigate against the biting effects of winter.
"The funding I announced last week will ensure additional staffing and capacity are being made available to build resilience across the whole system and it will take a few weeks for the benefits to work their way through the system.
"We are specifically working with NHS Lothian to help identify and provide solutions to improve flow through the hospital, which in turn will boost its performance and improve waiting times for patients.
"Whilst we are in no way complacent, it is important to note the efforts of our hard working NHS staff.
"Scotland's yearly A&E performance is currently sitting at 92.9% and our core A&Es have outperformed those in the rest of the UK for more than two and a half years."
Jim Crombie, deputy chief executive of NHS Lothian, said: "Like a number of other health boards, NHS Lothian is experiencing significant winter pressures across our whole healthcare system.
"There are a number of contributing factors, including the increasing complexity of cases presenting at emergency departments and significant numbers of delayed discharges.
"This new way of working will allow us to zoom in on processes and procedures, not just in the emergency department, but across the acute care system to help improve patient flow through our hospitals."
Scottish Liberal Democrat health spokesman Alex Cole-Hamilton MSP said: "Over the peak winter period it is essential that Scottish Government ministers ensure that under pressure A&E staff have the support and resources they need to deliver the best care for patients.
"These long waits indicate that this isn't currently the case."