'World's Biggest' Empire Biscuit Unveiled But Bakers 'Could Have Done It Bigger'
26 September 2017, 13:55 | Updated: 26 September 2017, 13:56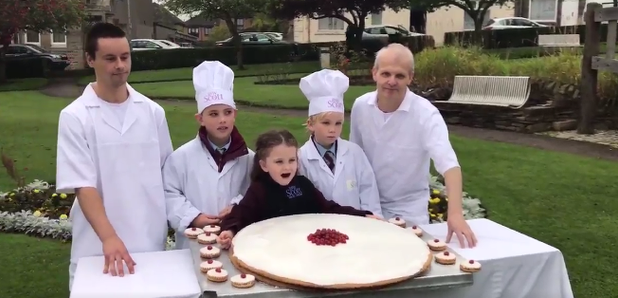 The "world's biggest" Empire Biscuit has been unveiled ahead of a jam festival, but the bakers behind it believe they can go even larger.
Measuring 36 inches in diameter and weighing 15kg, the sweet treat took more than 24 hours to bake.

It was made possible by jam maker R&W Scott as well as Clarks the Bakers, both based in Carluke.

The biscuit, believed to be the largest ever of its kind, was made ahead of the town's Jam and Ham Festival on Saturday.

Master baker Bryan Clark said: "We make a lot of empire biscuits but none that size.

"It was easier (to make) than expected, there are always some problems with it cracking and stuff like that, so we made some extra just in case.

"But it was actually easier than we thought - we could've done it bigger. We're very happy with it."

A total of eight bags of flour and 4,500g of butter were used to make the massive snack's base.

Strawberry jam and icing from R&W Scott, who were behind the idea, were then smothered on top of the biscuits.

St Athanasius school children Jamie Gordon, 10, Joseph Irvine, 8, and Lana Irvine, 6, then put then helped with the finishing touches by adding the cherries.

Joseph described it as looking "delicious" and thought it would take 10 people to eat it, although he claims he could do it just himself.

He added: "I could probably put three or four rulers on it."

The biscuit is now due to be made available for tasting at the festival.