Young Mother Chosen To Be Mentored By First Minister
7 August 2017, 12:20 | Updated: 7 August 2017, 12:23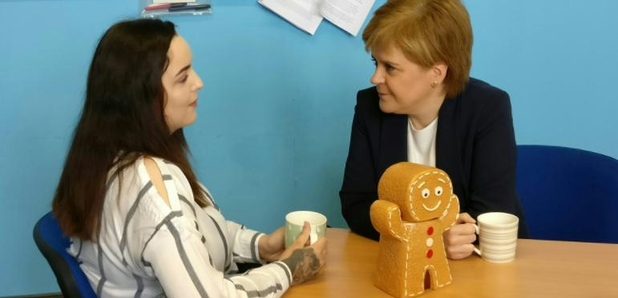 A young mother has been chosen to be mentored by Nicola Sturgeon for a year.
Charity volunteer Charlotte Liddell, of Buckhaven, Fife, was picked from more than 200 applicants.
The 20-year-old mother-of-two was a carer for a relative since age 12 and left school two years later.
The First Minister made the announcement at the charity Fife Gingerbread in Leven, which helps lone parents and disadvantaged families, where Ms Liddell has volunteered for three years.
Ms Sturgeon said: "Charlotte immediately struck me as someone with the passion and determination to make a difference to her community and to young people - especially for those who face tough challenges in life.
"Charlotte is a really impressive young woman who has already achieved so much and I hope the mentoring experience over the next year will be of real benefit to her and help her achieve her ambitions for the future. I am looking forward to sharing my experiences with Charlotte - but I have no doubt that I will also learn a lot from her.
"The number and quality of applications to be my mentee was exceptional and narrowing it down to just one was a really tough decision."
The First Minister urged leaders across Scotland to consider setting up a mentoring programme.
Ms Liddell, who earlier won a Young Volunteer of the Year 2017 award, said: "I want to inspire others just as the First Minister inspired me. I want people to know that no matter what happens in your life, you can still succeed.
"Too often, young people are told they will never amount to anything - especially young parents. By being chosen for this mentorship, I hope I will help other young people to believe in themselves - especially those whose voices are not heard."
The mentoring competition run in conjunction with YoungScot was launched on International Women's Day in March and is designed to highlight the importance of women in leadership roles mentoring young women.