Scotland's Big Town Showdown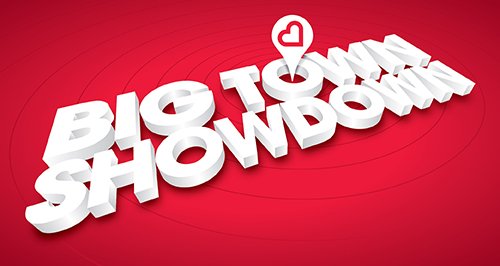 Is Larbert smarter than Livingston? Is Musselburgh brighter than Milton? Are the people of Kirkcaldy more intelligent than the people of Kirkintiloch? Let's find out on the Big Town Showdown..You could be representing your little part of Scotland on our general knowledge quiz.
The rules are simple - you've got 10 questions; answer them as quickly as possible. You can't pass and we can only accept your first answer. The faster your time, the higher up the leader board you'll go. Watch out though, as Robin and Adele will add a 10 second penalty for each incorrect answer you give.
Whoever is top of the leaderboard at the end of the season, will receive our Big Town Showdown trophy to take pride of place on their mantelpiece.
Simply fill in the form at the bottom of the page and you could be playing between now and the end on
Here's the leaderboard so far...
| | | | |
| --- | --- | --- | --- |
| Position | Place | Name | Time (including penalties) |
| 01 | Burntisland | Stephen | 0'31.9 |
| 02 | Bellshill | Wayne | 0'34.8 |
| 03 | Mount Ellen | Donna | 0'37.8 |
| 04 | Baillieston | Neil | 0'41.8 |
| 05 | Blantyre | John | 0'43.4 |
| 06 | Lanark | Michelle | 0'44.6 |
| 07 | Denny | Darroch | 0'44.9 |
| 08 | Paisley | Gillian | 0'47.2 |
| 09 | Armadale | JD | 0'47.9 |
| 10 | Baberton | Marie | 0'48.4 |
| 11 | Croftfoot | David | 0'49.3 |
| 12 | Helensburgh | Catherine | 0'50.0 |
| 13 | Alva | Robert | 0'50.6 |
| 14 | Tranent | Dean | 0'52.8 |
| 15 | Troon | David | 0'53.9 |
| 16 | Bonhill | Bryan | 0'54.1 |
| 17 | Avonbridge | Colin | 0'54.3 |
| 18 | Eaglesham | Christine | 0'55.5 |
| 19 | Renfrew | Scott | 0'56.8 |
| 20 | Bathgate | Ronan | 0'56.8 |
| 21 | Port Dundas | Dawn | 0'57.0 |
| 22 | Linlithgow | Vicky | 0'58.3 |
| 23 | Larbert | Lindsay | 0'58.6 |
| 24 | North Berwick | Judy | 0'58.6 |
| 25 | Larbert | Susan | 1'00.3 |
| 26 | Renfrew | Sarah | 1'01.5 |
| 27 | Bonnyrigg | Adam | 1'01.9 |
| 28 | Coatbridge | Ian | 1'03.9 |
| 29 | Cowie | Chris | 1'04.3 |
| 30 | Musselburgh | Ian | 1'06.3 |
| 31 | Motherwell | Stevie | 1'09.3 |
| 32 | East Caulder | Gordon | 1'07.4 |
| 33 | Dollar | Diane | 1'07.7 |
| 34 | Falkirk | Chloe | 1'08 |
| 35 | Motherwell | Steven | 1'09.3 |
| 36 | Fauldhouse | Collette | 1'09.7 |
| 37 | East Kilbride | Rebecca | 1'09.8 |
| 38 | Cumbernauld | Ross | 1'10.0 |
| =39 | Broxburn | Aimee | 1'10.6 |
| =39 | Bearsden | Fiona | 1'10.6 |
| 40 | East Kilbride | Kirsten | 1'12.0 |
| 41 | Renfrew | Jacqueline | 1'12.4 |
| 42 | Stenhousemuir | Aleda | 1'12.5 |
| 43 | Cowdenbeath | Claire | 1'13.2 |
| 44 | Pitcorthie | Lynsey | 1'14.2 |
| 45 | Nethergreen | Jacqueline | 1'14.8 |
| 46 | Cumbernauld | Catriona | 1'16.1 |
| 47 | Clermiston | Ross | 1'16.7 |
| 48 | Wishaw | Jenna | 1'17.8 |
| 49 | Garthamlock | Debbie | 1'18 |
| 50 | Giffnock | David | 1'20 |
| 51 | Stirling | Alan | 1'20.2 |
| 52 | Scotstoun | Jonathan | 1'22.7 |
| 53 | Grangemouth | Ashley | 1'24.0 |
| 54 | South Queensferry | Alex | 1'24.7 |
| 55 | Carmyle | Pamela | 1'24.8 |
| 56 | Kelty | Connor | 1'27.8 |
| 57 | Cramond | Stuart | 1'27.9 |
| 58 | Dunfermline | Hamish | 1'29.0 |
| 59 | Saltcoats | Anthony | 1'29.1 |
| 60 | Glenrothes | Paul | 1'29.2 |
| 61 | Motherwll | Heather | 1'30.1 |
| 62 | Newhaven | Dawn | 1'30.6 |
| 63 | Alloa | Jen | 1'32.9 |
| 64 | Bonnyrigg | Nicky | 1'35.8 |
| 65 | Wishaw | Beth | 1'36.6 |
| 66 | Sauchie | James | 1'37.0 |
| 67 | Grangemouth | Rachel | 1'38.0 |
| 68 | Lonridge | Jason | 1'40 |
| 69 | Biggar | Shaunie | 1'40.3 |
| 70 | Greenock | Patricia | 1'40.4 |
| 71 | Gairlochhead | Willie | 1.42.1 |
| 72 | Hamilton | Ashley | 1'42.7 |
| 73 | Glenrothes | Emma | 1.43.2 |
| 74 | Dunfermline | Louise | 1'46.8 |
| 75 | Drumchapel | Garry | 1'49.1 |
| 76 | Hillington | Audrey | 1'52.6 |
| 77 | Livingston | Graeme | 1'55.8 |
| 78 | Rutherglen | Pauline | 2'11.6 |
| 79 | Govan | Caitlin | 2'13.5 |