Christine won our In It To Win It car!
13 August 2018, 07:11 | Updated: 13 December 2018, 13:13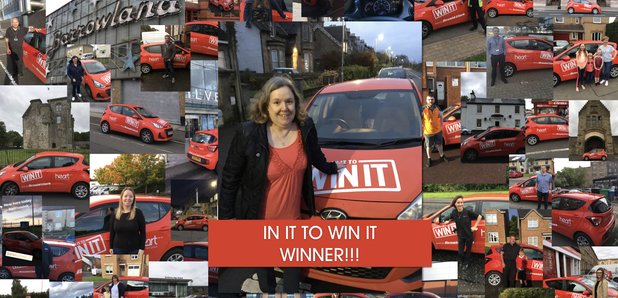 Christine in Langbank won our car on In It To Win It
Over the last few months we've teamed up with Arnold Clark to offer you the chance to win a new 18 plate Hyundai i10!
We played on Heart Breakfast with Robin and Adele at 8am and on Heart Drivetime with Paul and Lynne at 5pm.
The rules were simple; register your details here and let us know where you will be at those times. We then turned up in our In It To Win It Car, you jumped in, answered 10 questions correctly and the car would be yours.
After Niamh in Langbank didn't answer her phone however, Christine jumped in to play and only went and won the car! Here's how she got on:
Here are the questions she answered:
Bing Crosby dreamt of what type of Christmas?
White
Julius Caesar was leader of what empire?
The Roman
Name one of Michael Jacksons famous sisters?
Latoya or Janet
Hugh Grant, Alan Rickman, Colin Firth & Keira Knightly all star in which Christmas film?
Love Actually
Claire Foy stars as the Queen in which Netflix series?
The Crown
Alba is the name for Scotland in what language?
Gaelic
How many points for a penalty in rugby?
3
'It was Christmas Eve Babe, In the Drunk Tank' is the first line of which Christmas song?
Fairytale of New York
Leo Fender & Les Paul are associated with what instrument?
Guitar
In the bible, who had an Ark?
Noah