The 8:10 Phone Tap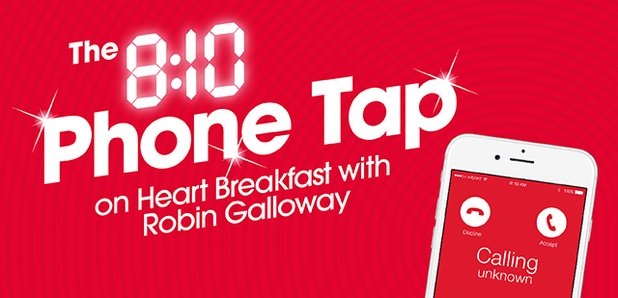 Every morning on Heart Breakfast with Robin Galloway we bring you the 8:10 Phone Tap.
Robin and Adele like to wake up Scotland by having a little fun on the phones.
Here are some of the best:
Find out what happens when Robin calls the Normandy hotel on behalf of the Royal Household trying to book the venue for their wedding!
It's Book Week Scotland so Robin called up Boness Library looking some rather odd Scottish themed books
Louise Redknapp was a guest on Heart Breakfast with Robin & Adele and 810 Phone Tapped her agent, Adam.
She tells him she's fallen out with her PA Charlie who has kicked her out of the car and left her stranded on the M8. How will Adam react?
Nick Knowles was a guest on the show and asked Robin to do an 810 Phone Tap on Billy from DIY SOS. He went on "Who Do You Think You Are" and they found nothing so we called him pretending to be from the show with a breakthrough.
Scotland play Holland at Pittodrie and because Holland have 2 lions on their crest we thought it would be fun to call about delivering 2 LIVE lions ahead of the match.
Andy Murray Live is on at the Hydro tonight. He is playing an exhibition match against Roger Federer but what if he was actually take to the stage and do a routine. We called up a stage school as Andy Murray to try and get some tips.
Robin challenged Adele to play a 4 year old calling up businesses to 'Trick or Treat' for free sweets. How will Adele do?
Emma has been having problem with getting her bins collected, so how would she react when Robin calls up with more problems for her....
The Aqua Symphony arrived in Scotland this week so we called up a recording studio looking to record a tribute Wet Wet Wet album under water.
Darius calls a white goods supplier looking for a human dishwasher!
Justin Timberlake was confirmed for the Half Time show at the Superbowl but one guy gets confused and calls the Super Bowl 10 pin in Falkirk looking for tickets.
Just how pet friendly are hotels in Scotland? We called one in Anstruther with a long list of pets we'd like to bring but just how many would they let us bring!
Ross is the star of the 810 Phone Tap, after running the Scottish Pool Singles Championships at the weekend, he asked someone to fill in as online commentator which didn't go to plan…… We called him as a national newspaper looking for answers!
Angela is the Phone Tap star and was nominated by her hubby Craig. They've just changed Gas supplier so we called Angela to find out how she's finding the gas and to make arrangements to fit a giant gas tank in her garden.
Heart Drivetime's very own Lynne Hoggan is the star today. Lynne has been using a fresh food service but has used 6 different email addresses so she can get the half price introductory offer 6 times….. Naught naughty so we called her up from that very food service to say 'You've been rumbled and we want some money back'.
I Love the 90's is on at the Hydro and Wally G has got the gig as the warm up act (or so he thinks) but being a fifer he needs a hotel in Glasgow to stay AND wants to check he can practice his Drum & Bass DJ'ing in the hotel room…… Calling Danielle at the Pond Hotel to find out.
Calling a South Queensferry Hotel to check the facilities in case the Queen gets caught short. But how will the react to some bizarre questions.
Robin calls Port Edgar Yacht Club to invite them to a retirement party for the Forth Road Bridge but how will they react?
Finlay is 6, and is calling a demolition company, but why? Strange thing to do anyway but on the same week the schools go back.... Hmm!
Psychic Stevie the worst Psychic in the world has dropped his crystal ball and needs to get a new one. He calls a Glasgow Crystal store for help and has a few predictions for her.
Posh Crawford calls a behavior specialist to see if he can sort out his foul mouthed Joey. How will they react to a cheeky, talking budgie?
Darius has had problems with kids playing chap door run so he calls an electrician to get help with a deterrent!
Scottish wrestler Lionheart became the star of the 810 Phone Tap after bring nominated by partner Rebecca. How would he react to some wrestling ideas Robin aka Bobby had?
Psychic Stevie is probably Scotland's worst Clairvoyant and he is trying to book his car in for service. How will the guy on the other end react to some of his predictions.
One of the biggest Gala Days in Scotland is Boness Fair Day is on but residents of the town hate when you call it a Gala Day.So how will Boness resident Mary react, when Robin calls up her shop Sweets N Things from an American TV station wanting to do a documentary on the Gala Day…
Joseph was the star today after being nominated by John Gaffney and his Uncle Jim. He was awaiting a call from the RAF and Royal Navy offices to see if he has been successful in his application, so how will he react when I call up to put him through a Psych test?
Nicola was the star of the 810 Phone Tap after being nominated by her friend Linda. She is getting married this weekend and on the eve of her wedding she is staying at Airth Castle Hotel. Nicola is a big Rangers suporter so sow will she react when we call up from the hotel to inform her a Celtic Supportes club have their annual doo on the same night and there are some slight changes to her booking….
Caroline organised a charity fundraising walk along a section of the West Highland Way. Unfortunately that part of the route is closed...... It's not, but that's what we told her!
At the Linlithgow Marches the bands start at 5am. Robin calls the Provost of the Linlithgow Marches Jim Carlin about the noise levels and a bizarre way to solve it.
Scotland's worst clairvoyant, Psychic Stevie was back calling up a hairdresser to show off his gift
Pittenweam pensioner Wally G loves Drum and Bass and all things young so called uo a Subaru garage to get a new motor.
Wally G is 73 and from Fife. He has a gig at the Pittenweem Bowling Club this weekend but his speakers aren't up to the job so he calls a DJ shop for some new ones.
Helen works at Rebecca's snack van between Bathgate & Armadale. Helen is quick to tell people when they ask for something that's not on the menu and has a few pet hates, namely 'can you take the fat off the bacon and people who ask for chips. We called her with a list of her pet hates to see how she would react and were not disappointed.
Finlay is 6 years old and wants to book a wedding. He's under pressure from his girlfriend to 'put a ring on it'.
Archie calls a garage to find out about his wife's car but as ever, when Archie makes a call it's never easy and Keith gets frustrated.
Avengers Infinity war is currently filming in Edinburgh so Robin called a gift shop on the Royal Mile trying to buy some tartan tat, for the movie
Premier league Darts arrives at the SEC Hydro. We call a taxi, hotel and restaurant as a darts player to book but with a darts question that only has one answer......... 180!
Crawford wants to play golf on World Book Day. He and his pals want to dress up as characters from their favorite titles but will Bothwell Castle Golf Club it?
What happens when you buy a new pan for pancake day and your pancakes get stuck to the ceiling? We called a home store to complain!
Gino D'Campo dropped in to see Robin & Adele and stars on the 810 Phone Tap. He calls a Gumtree advert selling a Gino D'Campo pasta maker but will Jake twig that it's actually Gino on the phone?
Robin called up a trophy shop in Glasgow looking for some replacement Oscars ahead of the big ceremony.
It's Oscars season and one of the worlds greatest actors wanted to book an Italian restaurant in St Andrews
Scooby Doo Live comes to Scotland but Scoob isn't feeling great so Shaggy calls Grahams road vets in Falkirk.
What happens when two guys get stuck in a wardrobe and can't get out. Call the shop you bought it from of course
Ford & Greg from Still Game (aka Jack & Victor) call HMV posing at Cockney's to ask questions about the Still Game DVD. Only thing is Chris has no idea he's talking to Jack & Victor.
A tens machine sends electric shocks around the body, to help with some sorts of pains. But what happens when one guy has it on full power, gives it a shot and it's stuck!
Transfer deadline day with the final moving and shaking of players. 6 year old Finlay wants to transfer to Partick Thistle so calls them up to get himself a contract.
You can hear more calls on our AUDIOBOOM page and SOUNDCLOUD pages