The A-Z of Lynne Hoggan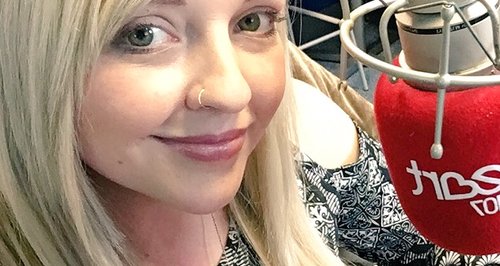 Get to know Heart Drivetime's Lynne Hoggan a little better with this A- Z guide.
A-Z's of Lynne Hoggan
ADORE… What can't you live without?
My kids, hair extensions, Chinese food & my husband..obviously
BODY…What physical attribute would you most like to change?
I'd like to lose some baby weight, I will probably never get rid of my baby belly but I'm ok with that #mumtum
CHILL OUT…What do you do to get away from it all?
I like to go for a drive and listen to music really loud, sometimes I even pretend I'm in a music video....we all do it sometimes!
DREAM … Your last dream?

EXCEL... something you are great at?
Cooking, eating and talking
FAMOUS… The celeb you've met?
Bill Murray, met him at carnoustie golf course. I am a massive fan and was hanging about thinking I wouldn't see him, but I heard his voice and I was literally the most excited person in the world, chased him, spoke to him and got a selfie with him, I was shaking like a leaf after it, it was almost as exciting as the time I met Lee Brennan from 911 in argyle Street Glasgow
GREETIN… What always makes you cry?
I always have a greet at the dog videos on Facebook, where they've had a bad start in life but there's a happy ending
HOLIDAY… What's your favourite destination?
Ok So I absolutely love Vegas, I've been once and I'd love to go back.....but I have been to Blackpool every year since I was born and I never get sick of it, so it's always been my favourite wee holiday destination.
IRRITATE… What's your most annoying habit?
Buying clothes and not wearing them...I have so many things with tags still on and I always say I'll take it back then I forget and end up keeping it in my wardrobe!
JEALOUSY…Which celebrity would you swap lives with?
Probably Beyoncé just to live like a millionaire for a bit....travelling by private jet, wearing designer clothes, spending lots of money, travelling all over the world, being able to dance like a pro and having an amazing body!
KNOCK KNOCK… Your favourite joke?
The one about the man and the giraffe walking into the bar...the man gets pints in for him and the giraffe, a wee while later the giraffe is drunk, the man goes to the loo and when he comes out, he goes to leave when the guy behind the bar shouts 'hey, you cannae leave that lying there' and the man says 'that's no a lion. that's a giraffe'
It's a classic!
LOVE LIFE… Are you attached or looking?
Married (happily)
MOVIES… Favourite film?
I'm Ghostbusters daft (all of them) and Dirty Dancing

NEVER…What would you absolutely refuse to do?
Jump out of a plane, I feel sick thinking about it...and no this isn't a challenge for the future because I will not do it...ok
OFF WORK…What do you do in your spare time?
Spare time..with two kids.......Are you kidding me? If I do get any time to myself I try and go to crossfit, or sometimes just use it to drink tea and eat cake!
PROUD MOMENTS …What are you most proud of?
I guess I'm most proud of what I am today. I started off in radio at the age of 14 and I'm now part of Heart Drivetime, working with an amazing team.....Brownie points right there
QUITE ANNOYING… What habits irritate you in other people?
I hate rude people who can't say simple things like please and thankyou, being polite costs nothing these days!

REWIND… Where did you spend your childhood?
In Falkirk town born and raised, Slamannan was where I spent most of my days.....hanging at the Rumlie and acting all cool, and going to the chippy straight after school
SCOTLAND...where's your favourite place to visit...
Burnt island for the childhood memories of going to the beach and shows with my family..I also really like Linlithgow, such a lovely wee place for food and drink and nice for a wee wander.
TEAM …Pick another presenter and describe him or her in three words?
Paul: Funny, Random and kind
UPLIFTING…What instantly makes you happy?
Sunshine, because we don't see it very often here in Scotland so when it comes out I always feel good, even better teamed with a BBQ and some drinks...Irn Bru of course
VOCAL…. Who is your favourite artist?
I cannot answer this with just one person or group, I love lots of different genres of music and my mum brought me up to love ELO, Phil Collins and Dire Straits, I am also a huge fan of 90's bands like Oasis, Ocean colour scene and The Verve. I like Coldplay, Beyoncé and Justin Beiber......
WISH LIST …. What are your top three Wishes?
To be able to do the last dance and the lift from the end of Dirty Dancing, to meet Robbie Williams, and to have a shot in Ecto 1 car from the Ghostbusters, these are achievable yeah?
X-RAY…Any broken bones?
No broken bones, which is surprising really!
YOUNGER DAYS… What's your earliest childhood memory?
Falling UP, yes UP the stairs in Primary school and splitting my head open, still have the scar above my eyebrow today
ZOO…. If you were an animal, which one would you be?
Lioness, not sure why but It's sounds pretty cooland I googled Zoo animals so that seemed best ha