Getting to Know Yasmin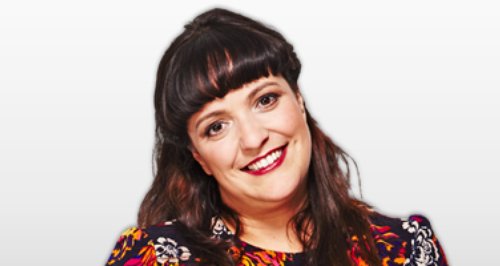 Here is everything you need to know about Yasmin Zemmoura (Yazz to you and me) You will be able to listen to her on Saturdays between 1 - 5pm and Sundays between 12 - 4pm.
Who was your first celebrity crush?
I did have a thing for Rik Mayall from Bottom and Vic Reeves but top of my list was David Bowie in Labrinth. I was so jealous of Jennifer Connelly's character because he obviously had a soft spot for her.

Who's your most recent celebrity crush?
It has to be some home grown talent in the form of Simon from Biffy Clyro. We're the same age and I kick myself when I think if only I'd grown up in Kilmarnock we might have been in the same class. Opportunity missed.

What song gets you on the dance floor?
It would have to be something funky so Uptown Funk by Mark Ronson and Bruno Mars or possibly Whigfield's Saturday Night but that's only because I know the dance!

What song reminds you of the most treasured moments in your life?
Songs from the eighties remind me of my childhood and Chris de Burgh's Lady in Red is one that stands out because my Mum would play that for me on the piano. Plus I love the way he pronounces the word 'dance'.
What makes you feel good more than anything else?
I love sitting chilling in a cafe with a coffee where there's some mellow background music and I can do the odd bit of people watching.
What's your most proud radio moment in your career?
I think getting a row from Rod Stewart was a highlight. He was not too happy when I called his model railway, a train set. Woops.
Also not losing my cool when interviewing Nile Rodgers from Chic was a very proud moment seeing as I was swinging from the chandeliars beforehand....so excited.
And the most embarrassing?
I once had the hiccups on air which was pretty embarrassing but thankfully a kind listener called up with some tips to help me get rid of them.
Also one April Fool's Day some of my colleages hid under the desk and when I went to talk live on the radio they started feeling my legs. I got such a fright but, not going to lie, quite enjoyed it.

Has anybody told you you look like a celebrity? Who?
I used to get told I looked like Lily Allen but it's usually when I have a thick fringe.

Favourite food?
I usually can't see past nachos on a menu but also have a love for olives. I eat them like sweeties and I think a pizza without them is a waste.

Favourite film?
I love horrors so Stephen King's IT is a favourite but then I love anything Simon Pegg puts his hand to so Hot Fuzz and Run Fatboy Run are a couple I like too.
Favourite place?
It is usually wet and muddy but I love Glastonbury music festival. For 5 days you're living on overpriced food and cleaning yourself with babywipes but it is worth every single penny and every bit of dirt. When it's been a sunny Glasto me and my friends usually play tan or dirt on the way home.

What is your most treasured possession?
It would be my memorabilia. I have about 6 boxes of treasured possessions from old dairies to Take That memorabilia which actually include Take That dogtags, a jigsaw and a Take That packed lunchbox.
I also have half a drumstick that I picked up from an Elton John gig when his percussionist threw it out into the crowd. The reason it's half a drumstick is because my friend caught it too and we couldn't decide who was going to keep it so we sawed it in half!
Who would play you in a film of your life?
It would have to be someone like Julia Roberts because, like her, I love to smile! I was even asked in a job interview if I always smile.

What is your guiltiest pleasure?
I think Big Brother would be a bit of a guilty pleasure seeing as I seem to be the only one watching it these days.

Tell us about your ideal weekend.
It would be a weekend away exploring a new city. I recently visited York and loved meeting the locals and just being a tourist and getting to know new places. I also love eating out so a few visits to restaurants would have to be on the cards.