10 Priceless North West Facial Expressions That Sum Up Your Life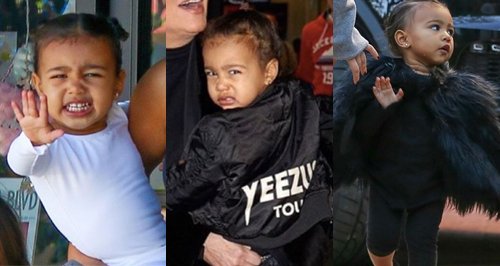 If North West's face could tell a story, it would describe our lives down to a T! As the sassy two-year-old daughter of Kim Kardashian tells the paparazzi "NO PICTURES" in what has to be her most hilarious diva moment yet... we look back her funniest faces.
She may only be two years old, but there is no denying that North West has got more sass than her mother Kim Kardashian and a temper to rival her daddy Kanye West...however her facial expressions sum up just about EVERYONE'S lives...check them out.
1. When your alarm goes off at 6am, and you can't bare getting up for work.
2. When you walk past a cake shop but you're on a diet.
3. When your boss asks you to do a task just as you're about to go home...
4. When you're in a rush and a volunteer asks if you can spare "two minutes".
5. When you see somebody else's child acting up in public...
6. When you see your ex... and you KNOW you look good!
7. When your friends carry you home after too many cocktails...
8. When someone sneezes on you during flu season, and you don't want to get sick.
9. When you've had an argument with your partner... and FINALLY say sorry.
10. When your partner has to drag out of a shoe sale on Boxing Day...
Well, judging by her facial expressions it looks as though North West is dealing with struggles FAR beyond her years!