Benedict Cumberbatch and Eddie Redmayne Battle For 'Best Actor' As Oscar Nominations Are Revealed!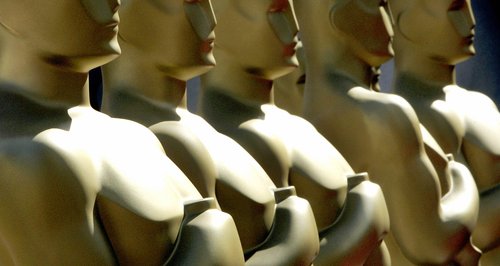 Eddie Redmayne and Benedict Cumberbatch lead the British stars who have been nominated for Academy Awards. Both stars will be going head to head for the 'Best Actor' gong, whilst Felicity Jones and Rosamund Pike will fly the flag for Britain in the 'Best Actress' category when the ceremony takes place in Hollywood on February 22.
Cumberbatch has been nominated for his efforts as Alan Turing in 'The Imitation Game' whilst Redmayne has been acknowledged for his portrayal of Stephen Hawkings in 'The Theory of Everything.'
Other stars in the running for 'Best Actor' include Bradley Cooper, Steve Carell and Michael Keaton.
'The Theory of Everything' star Felicity Jones will battle against fellow British actress and 'Gone Girl' star Rosamund Pike in the 'Best Actress' catagory along with Julianne Moore, Reese Witherspoon and Marion Cotillard.
Meanwhile it's set to be a tight race between 'The Grand Budapest Hotel' and 'Birdman', both of which are set to sweep up at the awards ceremony after being nominated in nine categories each including Best Picture.
>> Take a look back at the funniest moments from last year's Oscars <<
List of nominations:
Best picture:
American Sniper
Birdman
Boyhood
Grand Budapest Hotel
Imitation Game
Selma
Theory of Everything
Whiplash
Performance by an actor in a leading role
Steve Carell in "Foxcatcher"
Bradley Cooper in "American Sniper"
Benedict Cumberbatch in "The Imitation Game"
Michael Keaton in "Birdman or (The Unexpected Virtue of Ignorance)"
Eddie Redmayne in "The Theory of Everything"
Performance by an actor in a supporting role
Robert Duvall in "The Judge"
Ethan Hawke in "Boyhood"
Edward Norton in "Birdman or (The Unexpected Virtue of Ignorance)"
Mark Ruffalo in "Foxcatcher"
J.K. Simmons in "Whiplash"
Performance by an actress in a leading role
Marion Cotillard in "Two Days, One Night"
Felicity Jones in "The Theory of Everything"
Julianne Moore in "Still Alice"
Rosamund Pike in "Gone Girl"
Reese Witherspoon in "Wild"
Performance by an actress in a supporting role
Patricia Arquette in "Boyhood"
Laura Dern in "Wild"
Keira Knightley in "The Imitation Game"
Emma Stone in "Birdman or (The Unexpected Virtue of Ignorance)"
Meryl Streep in "Into the Woods"
Achievement in directing
"Birdman or (The Unexpected Virtue of Ignorance)" Alejandro G. Iñárritu
"Boyhood" Richard Linklater
"Foxcatcher" Bennett Miller
"The Grand Budapest Hotel" Wes Anderson
"The Imitation Game" Morten Tyldum
Adapted screenplay
"American Sniper" Written by Jason Hall
"The Imitation Game" Written by Graham Moore
"Inherent Vice" Written for the screen by Paul Thomas Anderson
"The Theory of Everything" Screenplay by Anthony McCarten
"Whiplash" Written by Damien Chazelle
Original screenplay
"Birdman or (The Unexpected Virtue of Ignorance)" Written by Alejandro G. Iñárritu, Nicolás Giacobone, Alexander Dinelaris, Jr. & Armando Bo
"Boyhood" Written by Richard Linklater
"Foxcatcher" Written by E. Max Frye and Dan Futterman
"The Grand Budapest Hotel" Screenplay by Wes Anderson; Story by Wes Anderson & Hugo Guinness
"Nightcrawler" Written by Dan Gilroy
Best animated feature film of the year
"Big Hero 6" Don Hall, Chris Williams and Roy Conli
"The Boxtrolls" Anthony Stacchi, Graham Annable and Travis Knight
"How to Train Your Dragon 2" Dean DeBlois and Bonnie Arnold
"Song of the Sea" Tomm Moore and Paul Young
"The Tale of the Princess Kaguya" Isao Takahata and Yoshiaki Nishimura