Watch Adele Make An Autistic Girl's Dream Come True With A Surprise Duet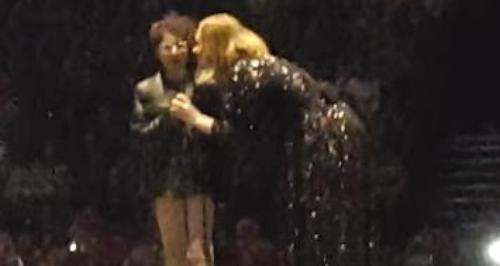 So what number are we up to now on the 'Reasons Why We Love Adele' list? Reason 102?
She's only gone and done it again.
When 12-year-old Emily Tammam went to Adele's show in Manchester with a banner that read: "It's my dream to sing with Adele", she didn't expect it to come true that night.
#Adele #manchester #amazing fan pic.twitter.com/DE7pjvzBBY

— Gemma Grimmett (@ggrimmettxx) March 8, 2016
Adele saw the banner and invited Emily on stage with her to sing Someone Like You. But little did Adele know that Emily would give her a run for her money when she hit every note pitch perfect!
#AdeleManchester #Adele #AdeleLive2016 #veryluckyfan pic.twitter.com/nHVO4F8GqN

— Gemma Grimmett (@ggrimmettxx) March 8, 2016
The dream-duo belted the song to an audience of thousands at the Manchester Arena.
Thank you to @Adele for letting my daughter sing with you on stage tonight at the Manchester arena pic.twitter.com/9dR5qJ7PaI

— Ray Tammam (@raytheIFA) March 8, 2016
Emily, who has autism, ADHD as well as the connective tissue disorder Ehlers-Danlos syndrome, auditioned for Britain's Got Talent in 2014 but didn't get through.
Never mind Emily, you left the audience in awe in Manchester, alongside none-other than Adele!