Adele Fans Descended On Wembley To Sing In Her Honour After Cancelled Gigs
3 July 2017, 07:55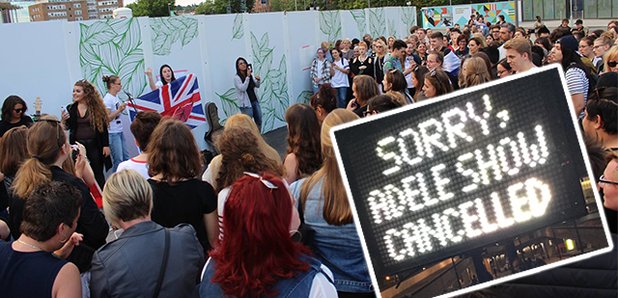 Adele fans from far and wide flocked to the stadium to sing in her honour after she was forced to cancel her final two gigs due to health problems.
Adele was forced to cancel her final two Wembley Stadium shows, which would have been her biggest ever, due to damaged vocal chords.
The star had already performed twice at the enormous venue last week, but was unable to go through with the final two shows of the tour and perhaps her career thanks to the problems.
The star revealed the sad news to fans in an emotional note on Twitter which read "I love you I'm so sorry, please forgive me".
But despite the devastating news that some would miss out on the chance to see some historic performances, her fans took the news incredibly well and rallied around the singer.
As a result, the hashtag #SingForAdele started to trend on Twitter in an effort to get fans to head to Wembley Stadium despite the cancelled performances and sing in the 29-year-olds honour.
If Adele can't do a concert for us, we'll do one for her! #AdeleTheFinale #weloveyouadele pic.twitter.com/IdrW8SltKJ

— Yazzy (@Yazzy_Music) July 1, 2017
Twitter user @Yazzy_Music was the brains behind the tribute and rounded up busking equipment, a dedicated bunch of Adele lovers and headed to the entrance of Wembley Stadium to make it happen.
The fans, who call themselves 'daydreamers' were made up of people from across the UK and even Europe as some had travelled to London especially for the shows but continued to make the most of their trip despite the cancellation.
Thanku so much for tonight. It was incredible, so emotional! People from all across the world! Music brings us together @Adele #adelefinale pic.twitter.com/VYUCDTMB7h

— Yazzy (@Yazzy_Music) July 2, 2017
Spread the love! Here is the group picture that i make! Special thanks to @Yazzy_Music for organize this amazing night! #WeLoveYouAdele pic.twitter.com/Iq43CtvtGA

— Patrick van Loon (@vanloonpatrick) July 1, 2017
We think Adele should be proud that she has such loyal fans!