Adele Earns THIS Much A Day Thanks To The Success Of Her Last Album
27 October 2017, 13:02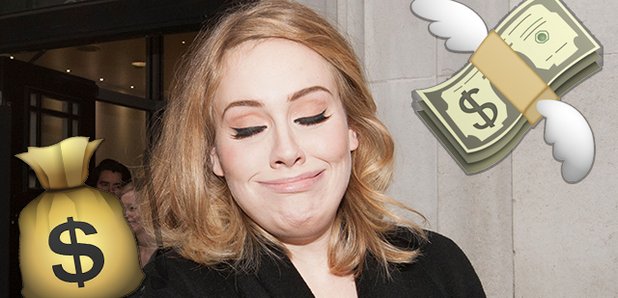 The 'Hello' singer proves again she is the queen of the British music industry!
Adele earned a whopping £45,000 a day last year. The 'Hello' singer has bagged herself an impressive £16.5million in the past year which is partly due to the sales of her incredibly successful album '25'.
The record which includes songs such as 'Hello' and 'Send My Love (To Your New Lover)' has sold over 20,000,000 copies across the world since it was released in November 2015.
A source told The Sun newspaper: "The Adele success story just rumbles on and on. It's an incredible amount of money, more than you'd think she'd ever need. And she has always been very careful with her earnings so there's no chance she'll waste any of it."
"It just proves that she's one of the biggest stars, if not the biggest, in her industry." Accounts filed by the star revealed that "the company will continue to exploit existing recordings and the director expects the turnover to remain strong".
The proceeds of Adele's huge world tour - which saw her perform over 120 dates across the globe - are expected to appear in the following year's accounts.
And Adele could soon earn even more as it was recently announced she has been offered £20 million for a year-long residency at The Wynn hotel in Las Vegas but this has not been confirmed.
An insider revealed: "The days of entertainers coming to retire at Vegas are a thing of the past. In the last few years, we have seen massive stars performing on the strip and every major hotel wants to say they have the biggest star as their resident."
"Caesars Palace had Mariah Carey, Planet Hollywood has Britney Spears, and we want Adele. Even at half a million dollars a show we are confident we would make a healthy return... Adele is a professional, and knows her own ability. And we are happy to be flexible in negotiations if it's needed in order to bring her on board."
Adele had previously revealed during her 'Adele Live' tour in March that she wanted to take an extended break from touring in order to focus on having another baby.
The mother-of-one - who already has five-year-old son Angelo with her husband Simon Konecki - said at the time: "I'll see ya later, I'll see ya on the other side. In a couple of years when I'll be back, you won't be able to get rid of me. I'm going to go and have a baby."