Adele Tells Fans Goodbye In Heartfelt Letter Revealing She May Stop Touring
29 June 2017, 07:54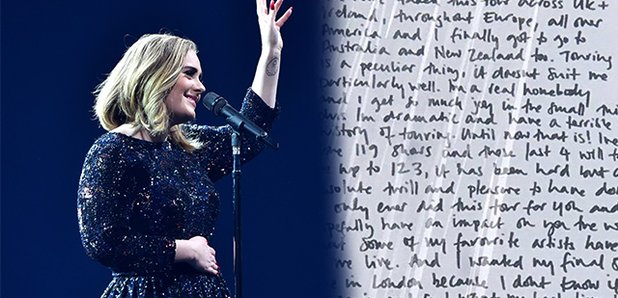 The 'Someone Like You' singer announced the sad news in a handwritten letter to her fans at the Wembley Stadium shows this week.
Adele has been on the road touring her bestseling album, 25, for a whopping fifteen months.
It is an album that has provided the world with hits such as 'Hello' and 'When We Were Young' and her tour has shown the London born singer a world full of devoted fans desperate to hear her incredible voice.
To finish the momentous tour Adele is performing four dates at Wembley Stadium this week. She is the first female artist to do so since the Spice Girls and is performing to an absolutely packed house.
But in a heartfelt and handwritten note inside the show's programme she hid some emotional news for fans.
It reads as follows: "So this is it after 15 months on the road and 18 months of 25 we are at the end. We have taken this tour across UK + Ireland, throughout Europe, all over America and I finally got to go to Australia and New Zealand too.
Touring is a peculiar thing, it doesn't suit me particularly well. I'm a real home body and I get so much joy in the small things. Plus I'm dramatic and have a terrible history of touring. Until now that is! I've done 119 shows and these last 4 will take me up to 123, it has been hard out an absolute thrill and pleasure to have done.
I only ever did this tour for you and to hopefully have an impact on you the way that some of my favourite artist have had on me live. And I wanted my final shows to be in London because I don't know if I'll ever tour again and so I want my last time to be at home. Thank you for coming, for all of your ridiculous love and kindness. I will remember all of this for the rest of my life. Love you. Goodnight for now."
This will come as devestating fans for both those who have witnessed her stunning live performance and those who are yet to but are hoping to in the future.
But after these four dates and this bombshell announcements it's looking like the 29-year-old from Tottenham might not ever perform live for fans again.
Excuse us while we grab some tissues....
Adele has not only been in the news for her music lately, but also her effort to help raise money for the victims of the Grenfell Tower fire.
In a passionate outpouring during last night's gig she urged fans to donate to the cause the said: "Usually I ask everyone to get their phone out and put their lights on. But before I do that I want you to donate. Did anyone are the video before I came on? I've been down to Grenfell tower."
She wrote her album 21 in Notting Hill, the area close to where the tragedy took place and holds the area close to her heart vowing that she's not "leaving them".