Adele Visits Ramsay Street Amid Fears That 'Neighbours' Will Disappear From British TV Screens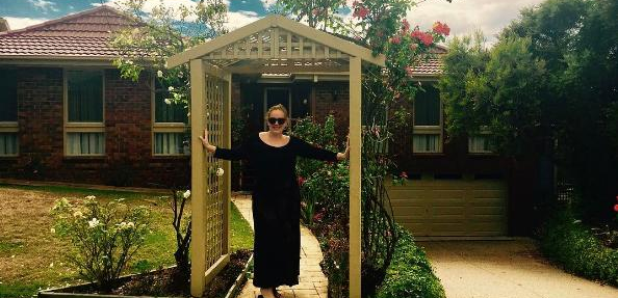 It's given us an idea for Adele's next single...
As Neighbours' future hangs in the balance, one famous fan has pledged their allegiance to the legendary Aussie soap. And when ADELE – who has recently visited Ramsay Street during her tour – is on your side, you're in with a fighting chance.
Yes, fans are worried that, after 31 years, Neighbours could soon disappear from British TV screens. This is reportedly because Channel 5 owner Viacom doesn't believe it has significance for a British audience – though Channel is keen to keen to keep the show.
Channel 5: Keep Neighbours on UK terrestrial TV - Sign the Petition! https://t.co/hYptWJNf8P via @ChangeAUS

— ShootingStar (@GoodremFan) March 19, 2017
Fans are, too, with an online petition doing the rounds. At the time of writing, more than 8,500 people have out their name to 'Channel 5: Keep Neighbours on Terrestrial TV'.
One anguished viewer wrote on the petition: "Neighbours is a solid and reliable programme with a loyal fanbase, which never fails to turn even the gloomiest of days around, not just for me but for many other fans all around the world."
Neighbours is my fave soap I watch please don't axe it #neighbours

— Olympia Valance UK (@olympiafan1) March 20, 2017
@channel5_tv Do not get rid of #neighbours i don't know how I would cope #loveit #watcheditsince86

— D (@MrsLonelyTown) March 20, 2017
And it looks like Adele is also a Neighbours fan, as she took a break from her Australian tour to share an Instagram snap of her posing at Ramsay Street, the infamous neighbourhood in the which the timeless soap is set. Lily Allen and Heart's Emma Bunton are among the many stars have also excitedly visited the set over the years.
Echoing the unforgettable theme tune, she posted the caption: "Neighhhhbours, should be there for one anotherrrr. That's when good neighhhbours become goood friennnds."
We can almost hear her singing the song in her inimitable style. Maybe she should cover it as her next single!
The transatlantic love for Neighbours is evident, too, in the London-set episodes that air this week. Toadie (Ryan Moloney) is in the big city looking for this estranged wife – and fans are equally keen to see Neighbours remain on British TV!
So @Adele visited #RamsayStreet today. Seems everyone good @neighbours especially when it's in #london tonight. pic.twitter.com/a1dz4YI2RU

— Alan Fletcher (@doctorkk) March 20, 2017